The Price of Ice: ALS Bucket Challenge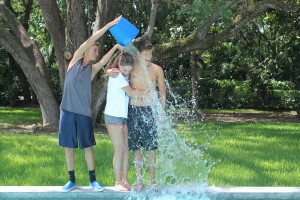 Trending worldwide: ALS Ice Bucket Challenge. Open any social media application and it's not difficult to come across a video of a familiar, or famous, face pouring ice-cold water on their head. Though this challenge may be seen as a viral stunt to many, there is true importance behind the ice.
Until this past summer, many knew little, if at all, about the devastating disease. Amyotrophic Lateral Sclerosis (ALS), commonly known as Lou Gehrig's disease, is a neurodegenerative disease that affects the brain's ability to initiate muscle movement. In some cases, the disease may result in total paralysis of the body, and quite often, death.
"The Ice Bucket Challenge has become a great way to raise awareness for an important cause, in a fun way," said junior Natalie Aulicino.
Though the origin of the ice bucket challenge is unknown, it may have began as a pop-culture phenomenon in the northeastern United States; known as the "Cold Water Challenge." It involved either donating to a charity of choice, primarily cancer research, or jumping into a body of frigid water. Participants then nominated friends near and far, resulting in a rapid expansion throughout the country.
"The ice was cold, but it was definitely worth supporting a charitable organization, " said sophomore, Asa Agnoli.
Faculty, in addition to the vast majority of students, have recently participated in the fundraiser.
"I had seen some posts about the Ice Bucket Challenge, so when my daughter nominated me I didn't hesitate to go for it.  Spreading awareness about an important cause was my pleasure," said English teacher Ina Artzt.
Through social media, celebrities in particular, have played a major role in spreading the word about the challenge as well as the importance of donating. Pop culture icons such as Justin Bieber, Selena Gomez, Taylor Swift, and Lady Gaga have accepted various nominations. Charlie Sheen, on the other hand, added an unexpected twist when he dumped the $10,000, in cash, that he is donating to the ALS organization, over his head in place of the ice.
Despite criticism related to the campaign, the challenge alone has raised funds skyrocketing expectations. As of early September, donations broke $100 million, continuing to raise "bucket loads" each day.