Chris Pratt Goes Viral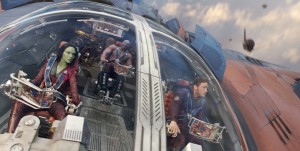 Over the past few weeks, the Internet has fallen slowly but surely in love with Chris Pratt through his witty humor, award-winning acting, and inconceivable good looks.
The beginning of this snowball effect was Pratt's lead role in Guardians of the Galaxy, a Marvel movie that broke records by making a total of $94 million dollars in its debut. In the movie, Pratt plays a character named Peter Quill, also known as Star-Lord. He somehow meets a talking raccoon, a humanoid tree, and a green lady then they tell some jokes. There's also something about saving the world.
However, the plot is not what the fans are paying attention to. No, they are looking at the newly buff Chris Pratt. After an extreme weight loss and workout regime, Chris Pratt became as chiseled as Michelangelo's David. Soon after this realization, fans watching the movie also discovered that Pratt is also a successful and entertaining actor.
A quick search on the Internet shows that he is the voice of the main character in The Lego Movie and that he plays the role of Andy in Parks and Recreation. Recently, in a video posted by The Paley Center for Media of the cast and crew of the Parks and Recreation, script writer Michael Schulr admits that the best line of the show was a line that Pratt improvised.
Pratt also participated in the ALS Ice Bucket Challenge to raise money for the ALS Awareness Association. Pratt rise to fame has a humble backstory. Before he became the Internet's sweetheart, he was homeless for a time in Hawaii between jobs until he was eventually cast in his first professional acting role in Cursed Part 3.
In addition to being witty on and off set, Chris Pratt is charitable and selfless. After the success of Guardians of the Galaxy, Pratt visited a children's hospital dressed as the main character.
"I stole the jacket and some of the wardrobe with the hopes that I could go and visit some kids," Pratt says with a guilty grin during an interview on mtv.com.
Pratt will be starring in the sequel of Guardians of the Galaxy in 2017, and his closest upcoming role is in the movie Jurassic World 4.