Recently, Chris Christie, former governor of New Jersey and Republican candidate for the 2024 presidential election, hosted a town hall event at Casa Cuba in South Miami. I was able to get a behind-the-scenes look into a typical morning on a major political campaign. 
I arrived bright and early, at 7:15 a.m. The venue was already filling up, and the sounds of patriotic band music could be heard from where I was standing in the bustling parking lot with some of the campaign staff.
We stood waiting by the CNN van as the governor was being interviewed live within. There were people in khakis and press tags, guys in polos and slacks, the occasional curious passersby: all drinking cafecito and munching on pastelitos which a political consultant was trying to coax the candidate's staff to try. "Come on, when in Miami!" she cried, until one staffer caved, picking up a guayaba y queso pastelito, proceeding to get crumbs all over his dress shirt. 
I was holding awkwardly a bag of empanadas for the governor, entrusted to me by a staffer who needed to go wrangle the pack of photographers hoping for a shot of the candidate. I listened to the chatter of the people around me, discussions of races in Georgia or California; Christie's schedule for the afternoon; city sights not to miss.
Christie emerged from the van and began walking towards the restaurant, and the gaggle of reporters and photographers immediately descended as we followed. Casa Cuba was filled to the brim with people and camera crews: waitresses hurrying through the clusters of guests who ranged from everyday Miami citizens to local mayors, commissioners, and even a representative from the Consul of Japan. We stood for the pledge, and "God Bless America," although the whole place ignored the joking yell of host Grant Miller, publisher of Miami's Community Newspapers, to stick to "one verse, everybody!" The town hall was officially underway.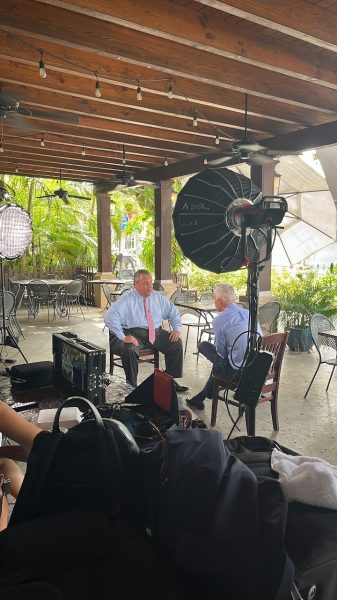 Christie started things off–naturally–with a New Jersey joke, then spoke about his platform and vision for America. He highlighted "the beast of government spending" and education, pointing out that one-third of K-12 students read below their prospective grade level. Christie declared that "…we need to radically change this education system in America," which he claimed is "failing families in every corner of the country. 
He spoke about violent crime and his conviction that perpetrators have been let off by the current justice system, and how appointing a "tough-on-crime" attorney general would be a priority for his administration. Then came the war in Ukraine, and how his experience traveling to Bucha and Kyiv served to reaffirm his conviction that the U.S. cannot "bring up the drawbridge" when it comes to other nations.
He took an opportunity to dig at Trump when someone mentioned that the former president was allegedly planning on skipping the Republican debate this week, asking the audience if that was the kind of person they wanted negotiating with foreign leaders.
"That's why I'm running for president. Not to do the little things. But to do the big things," Christie said. 
He spoke frequently about his opponents in the race, from either party. He brought up the fact that two of the Republican candidates (three if you count Trump, a Palm Beach resident) are from Florida; Gov. Ron DeSantis, and Miami Mayor Francis Suarez. 
"People ask me why I bother coming to Florida if [other] candidates live here," Christie said, then explained that it's "…because we need to have these conversations. And I'm sure not going to concede the conversation to Ron DeSantis, and I'm sure not going to concede the conversation to Donald Trump."
These two were Christie's main targets of criticism, and the audience seemed to agree with him, often interrupting him with applause when he expressed disappointment with Trump and "confusion" about DeSantis' recent policies as governor, specifically citing attacks on Disney and transgender people. 
"We don't get him either," one woman called out, sparking laughter.
"I know I shouldn't say this in Florida, but just don't go to Disney World!" the governor joked, then became more serious. Christie didn't say whether he agreed with the rhetoric behind the policies targeting trans children, but made it clear that he believed the government had no place in regulating such matters, and that those decisions, like others affecting their kids, should be left to parents. 
This tied into a larger theme Christie presented–the evolution of the Republican party as of late. 
"My whole life, we (conservatives) have wanted smaller government," the candidate said, questioning how the basics of conservative ideology could coexist with DeSantis' agenda, claiming that the Florida governor's strategy was essentially to pass a law about anything he didn't like.
Additionally, he expressed frustration with the fact that Trump continues to be the presumptive Republican nominee, in light of not only his past actions, but the continued criminal indictments.
"The frontrunner is going to be out on bail in four different states," Christie emphasized. "When are we going to stop pretending that this is normal?"
The governor answered every question up front, including adverse ones. He made excellent points that had plenty of cross-party appeal, and peppered meaningful discussion with quips that played well with the audience. When someone asked how he could justify his turnaround from being a hearty supporter of Trump to now being one of his most vocal opponents within the party, Christie simply stated, "I was wrong," earning him approving applause from the crowd.
I spoke to a few people afterwards, including host Grant Miller.
"We were lucky enough to have Chris Christie come in to talk about what he wants to do for the United States, and he was quite impressive. He didn't attack people; he just went on the facts, what we can do…about 250 people showed up; all the national news–including Gulliver," Miller said with a laugh. "It's an exciting time for us, to make a change."
Christie may not be a frontrunner for the Republican nomination–but he's certainly going to make noise while he can.