Campus Voices: What it Was Like Working on a Political Campaign
I have been passionate about politics since shortly after the 2020 election. For the last 2 years, largely due to the lack of elections, I did not get involved much. That changed around summertime, as the Democratic Party geared up for the midterm election primaries. I decided to focus my attention on my local congressional race, volunteering for local city commissioner Ken Russell's campaign. I had met Commissioner Russell at an event previously and agreed with him on most issues, making working for his campaign a no-brainer. After a few months of canvassing, phone banking, texting, and doing countless other campaigning methods, we ended up losing the primary to State Senator Annette Taddeo. 
Frustrated, I set my sights forward and looked for new opportunities. I ended up signing on to Congressman Charlie Crist's campaign for governor, looking to help him defeat incumbent Republican Gov. Ron DeSantis. I made phone calls and organized with his campaign staff. Then the prediction polls came in 2 weeks before the election. Our staffers told us of the diminishing funds and significant lead held by DeSantis. I largely stopped volunteering with Crist's campaign, although I went on to attend a rally held by Charlie Crist which was even attended by President Joe Biden, an opportunity for which I will always be grateful to Charlie Crist's team.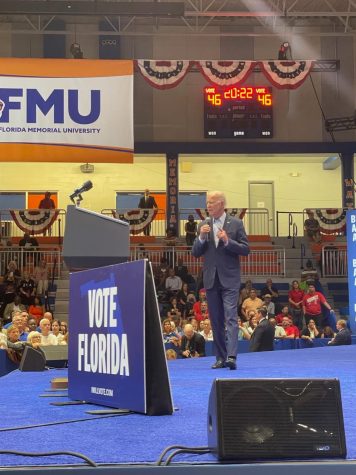 I yet again decided to focus on my local community more. I drove to Sunset Place to Annette Taddeo's office and walked in looking to volunteer. When I say they put me right to work, I am not exaggerating. I sent upwards of 200 text messages a day, and was placed in charge of responding to replies to our automated messages in both Spanish and English. I received offensive and rude messages, but also questions and messages that the scripts were not adequately fit to answer. I spent close to 1 hour a day working for Annette Taddeo's team, a number that would rise significantly as the election approached.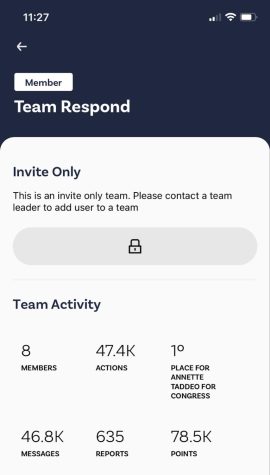 Taddeo and her team took me in like family. I stopped by the office almost every other day, knowing there would be pizza or snacks if I needed, as well as the perfect space to do my campaign volunteering. The team treated me like an equal, despite my being significantly younger than the rest of them. I was happy to be putting in my time and effort, eventually becoming one of the head text banking volunteers on team Taddeo. 
Election night finally rolled around, and I arrived at the office two hours early. I put on my Team Taddeo shirt and began setting up for the watch party. News networks were setting up cameras nearby, and I helped other volunteers with registration and food and drink distribution. The two hours flew by, and before we knew it, the polls were closed. We began closely watching the news, anxiously watching as the polls closed in. Annette Taddeo lost to Republican incumbent Maria Elvira Salazar. Annette immediately conceded and gave a lengthy and emotional speech, explaining the importance of continuing to fight for what we believe in, as well as of campaigning and organizing starting today, not just in 2024. Amid teary eyes and smiles, the room burst into applause. Annette was surrounded by her family and local news stations, so I went to talk to the staff. After a series of hugs and handshakes, we all smiled and began to talk about what to do moving forward, all while helping clean the venue and making sure Annette's press conference ran smoothly.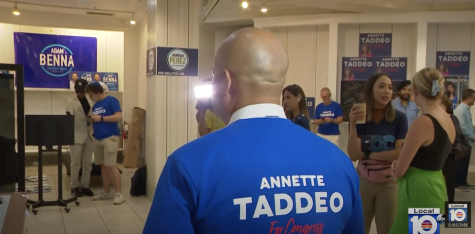 I not only developed a good relationship with the Taddeo campaign team, but I also did so with Annette herself. After all the press interviews, I went to congratulate her on her effort. She shook my hand and thanked me for all the help. I expressed my gratitude to her for running and fighting for what we believe in, something that made me thankful to be on her team. We chatted for two minutes before more journalists came ready to storm her with questions. I helped the team finish cleaning, and finally, was ready to go home. As I went to bed that night, I slept soundly knowing that we had done all we could, and that although we did not win the election, I was able to be part of a movement that constituted one of the most powerful and impactful experiences of my life. I am extremely grateful to Team Taddeo and Annette Taddeo herself, and I can attest that for a fact, working on a political campaign is one of the most powerful and incredible things someone can do for their community and their activism.