Girls Volleyball Defeats Ransom Ending a Four Year Rivalry
Jade Garcia, Social Media Editor
September 15, 2022|174 Views
The Varsity girls Volleyball team defeated Ransom Everglades in the Blue Dungeon with a final score of 3-2 on Monday, September 12th.
In an exciting five set game, the Gulliver Prep Raiders started slow as Ransom took the first set with a score of 23-25. The Raiders knocked Ransom back on the second set and were able to outplay Ransom with a score of 25-17. Ransom then picked it back up again for their side and beat the Raiders in the third set with a score of 21-25. The Raiders then beat Ransom in the fourth set with a dominating 25-11 result. This draw led the game to a 15 point set in which the Raiders defeated Ransom 15-12.   
Although the Raiders took home the win at the end, new assistant coach Sheila Rojas believes the girls could've started off stronger and more focused. 
"We need to improve on our reaction time and being more explosive on the court," Rojas said, "That's why strength and conditioning is super important to this program." 
Rojas knows that playing a sport comes with mistakes but knows that mistakes can be corrected with practice.
"Knowing how to maintain focus and intensity from the beginning is something we instill," Rojas said about the practices, "We as a team have to take care of the quality of errors. Meaning it's okay if they happen, but is it purposeful? Was there a reason behind your error or were you just hoping to do something."
As for Junior and Outside Hitter Hailey Brenner, the game is definitely one to reflect on.
"I feel like we need to work on being more consistent in adversity and challenging periods during the game," Brenner said, "We need to work on communication on the court." 
While Brenner believes the team as a whole played well, she knows there's more to be improved.
 "We're still on an upward trek to getting better and games like these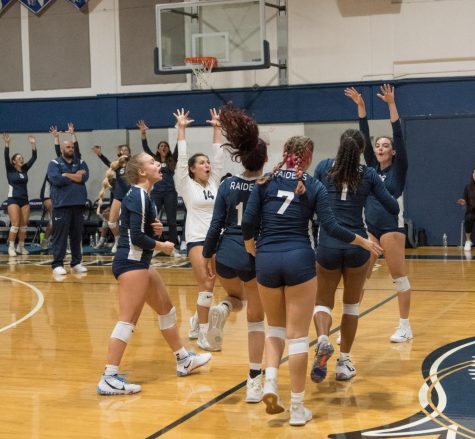 show that to us," said Brenner.
The Raiders won the game with the final score being 3-2. For Freshman Lia Gonzalez, who's been out due to an injury, the game looked good from the sidelines but she believes there's always room for improvement. 
"We could've had a little more energy from the start," Gonzalez said, "We need to clean some things up that could definitely help us improve."
Gonzalez believes that it's important to not only focus on the negative considering the season is going good for the volleyball team. 
"We managed to pull through with the win and played well. It was somewhat a redemption game from last year where we lost to Ransom in 5 sets," Gonzalez said, "I'm really proud of the team's progress and we can only go up from here."