Prep Librarian Anne McVeigh celebrates upcoming retirement with official "Anne McVeigh Day"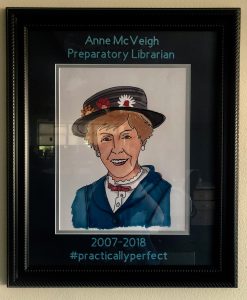 Students and staff celebrated Librarian Anne McVeigh's final week at the Prep by decreeing Dec 19, 2018 as the official "Anne McVeigh Day." After twelve years of working on campus, McVeigh decided to retire on Dec 21. Students and staff said they would remember McVeigh for her kind personality and excellent baking skills.
"Whenever she could, she would always give our DS class leftover brownies or cookies," sophomore Kimberley Cruz said.  
"She's the embodiment of grace, generosity, and kindness," said Head Librarian Roxanne Trejos.
Trejos wanted to make McVeigh's last days at school special, so she decided to create an official day of celebration dedicated to McVeigh's impact on the student body and faculty.
"She wanted to go quietly, and she actually asked that I not tell anyone in the school she was leaving. Of course I couldn't actually do that," said Trejos.
Library faculty decorated the media center with balloons, made "Anne McVeigh Day" stickers, and dedicated a brick to her legacy that will be installed in the atrium. McVeigh also handed out doughnut holes to students who came to the library to say goodbye.
"Leaving Gulliver is bittersweet. I just love the whole school, the different departments, and how everyone collaborates and helps one another. It's just been a wonderful time for me," said McVeigh.
Her colleagues hung an original digital portrait of McVeigh in the media center, which  was created by Academy science teacher Valeria Rodriguez, and shows McVeigh dressed as her favorite childhood character "Mary Poppins." The portrait will commemorate her time and dedication to the Prep.
About the Writer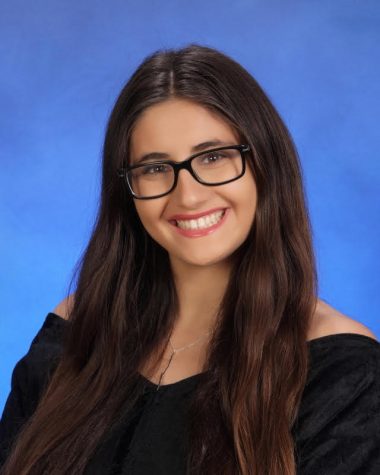 Lara Russell-Lasalandra, Copy Editor and Video Producer
My name is Lara Russell-Lasalandra and I'm the copy editor and video producer for the Raider Voice. I am a senior and this is my first year on the staff....