DIRT: Great, Healthy Choice for Brunch
Hang on for a minute...we're trying to find some more stories you might like.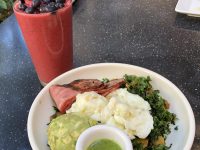 DIRT, the fast-casual mini chain expanded, opening its third location in Mary Brickell Village this October.
The affordable and organic restaurant, with its great service and ambiance is the perfect place to go for breakfast or brunch. It's health cen
tric menu offers a vast variety of organic options, including quinoa bowls, sandwiches, açai bowls, and fresh cold-pressed juices, smoothies, and coffees. There are also many vegan and gluten-free options.
The restaurant is easily accessible with plenty of parking nearby. The decor is simple and modern with wooden furniture, marble counter tops, and metallic accents, making it an inviting and casual atmosphere. For brunch, opt for outdoor sitting in order to get the most of the fresh air and peaceful environment. The staff is friendly and the food comes quickly.
While DIRT has entrées ranging from $10-16, it is well worth the price for the clean eating and high-quality organic food that is served. Portions are just right leaving you satisfied at the end of your meal.
I had a great exper
ience at the restaurant and I was beyond happy with the dishes I chose. The Clean Bowl was delicious and extremely fresh. It consists of scrambled egg whites, sautéed spinach and kale, sweet potato, avocado, sprouted chickpeas and lentils, and salsa verde.
If you are looking for more of a burst of flavor, however, I recommend the Fritatta Tostada which has a spicy siracha sauce. The Fritatta Tostada is also built on a tostada which gives it a crunchy texture.
I tried the Defense Smoothie which was a great choice to
go along with my brunch. The combination of mixed berries, pineapple, mango, banana, coconut water, and mint, topped off with fresh blueberries made the smoothie exceptionally good.
Overall, DIRT is a great place for brunch if your in the Brickell area and I highly recommend it.