Wade's Return energizes the Heat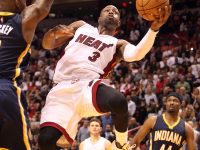 He's back.
The Miami Heat acquired Dwyane Wade from the Cleveland Cavaliers prior to February 8th's trade deadline. After a year and a half away, D-Wade is back where he belongs; in South Beach, where the future Hall of Fame shooting guard helped lead Miami to all three championships as a franchise. In Miami, it's a sense of relief and elation. Many were saddened when Wade departed for the Chicago Bulls in the summer of 2016. But the organization and fans gave him a warm welcome back upon his return to Miami. Wade's first game back in a Heat uniform was Friday, February 9th against the Milwaukee Bucks, where the beloved shooting guard entered off the bench to a roaring standing ovation from Heat fans.
Wade's legacy in a Miami Heat uniform is unmatched by any other player in Heat history. Wade has already given this franchise 13 unforgettable years, and now the book is re-opened. Tensions with Heat President Pat Riley and Wade had led to the split-up, but the two made up, and were certainly happy to be reunited.
"He is a heat lifer," Starting Point Guard Goran Dragić told reporters when he found out about the trade. The two had
a close relationship, which was part of Dragić's decision to stay in Miami. "I remember what he meant to me when I came here. He helped me a lot with his experience. He put this franchise on his back."
The return of Dwyane Wade and "Wade County" is one fans, players, and management has been waiting for. That time has come, and the player who made an unparalleled impact on this team for 13 years is in a Miami Heat uniform once again.