Fidel Castro Dead
Hang on for a minute...we're trying to find some more stories you might like.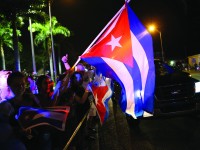 Fidel Alejandro Castro Ruz, a crusader against capitalism, passed away on Nov. 25, the single biggest day for American capitalism (Black Friday).  For the nearly one million Cuban Americans in South Florida, Castro's death was of cathartic importance, even if solely symbolic — a symbol of a tyrannical egotistical man who ruled with an omnipotent iron fist. Behind the tall, harrowing symbol was a man who was chiefly responsible for the thousands of Cubans who were incarcerated in abysmal prisons and the denial of basic political freedoms for generations.  His impact and impression on the Cuban people is undeniable; many of his tactics such as surveillance, beatings, arbitrary detention, and public acts of repudiation are still exercised by the Cuban government today. These inhumane acts have died down in recent years under the rule of his brother Raul as the country has not held an execution since 2003, however, thousands of people are sent to prison every year for political crimes.
Yes, his death is largely symbolic, and what his death means for the freedom of the Cuban people remains largely unknown. However, it does mark the end of an era for Cuban Americans and Cubans currently inhabiting the island. This era was characterized by political oppression and the denial of basic human rights. However, with his death there may be hope for a new path of freedom. Recent years have seen an easing and opening of US and Cuban relations, which has led to newfound opportunities and freedoms for the Cuban people. Despite the progress, Cuba remains one of the most oppressive regimes in the world. Therefore, we must act as people with compassion and in the name of all the men and women who were oppressed and abused by Castro's totalitarian regime. We as a people and country must press the Cuban government to embrace the political, social, and economic dreams of the Cuban people.