Key Club recently joined forces with Raquel Regalado, Miami-Dade District Seven Commissioner, for her annual Thanksgiving food drive. Student volunteers assembled at Smathers Plaza in Little Havana to distribute bags of food to local elderly residents.
Students spent their Saturday ensuring that every bag was properly assembled before collecting and personally delivering them to residents, wheeling carts of packages through various apartment halls, knocking on doors and ringing doorbells. The bags contained a variety of prepackaged foods including ham, crackers, juice, coffee, and pistachios.
"We packed the food for the people and we went and dropped it off to each individual apartment and were able to say happy Thanksgiving to them which was really fun because it meant a lot to them and you could see it," volunteer junior Sarah Bielawski said.
For students like Balthasar Laemmli, who is also the director of the Key Club, it was a gratifying experience.
"I really enjoyed it – the interaction with the people who live there, greeting them and wishing them a Happy Thanksgiving," Laemmli said.
Students collaborated with Alejandro Servalli, the Director of Constituent Activities from the Commissioner's Office. Servalli also stepped in to help, assembling and packaging the foods while students were off delivering ready-to-go bags.
"We have an assembly line where all the students get involved with bagging the food. All the food gets put into cards and basically gets delivered all around the community to the very appreciative seniors who live there," Key Club sponsor Dr. Anna Merrill-Arango said.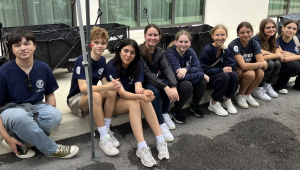 Usually, the Key Club's events take place on campus so having an off-site opportunity for students to be involved in their immediate community was something enjoyed by many, according to Arango.
"[W]hile Key Club has a lot of drives and other ways for students to get involved, this is a fun way for students to really get involved in their community and do community service work, which I think is really important," Arango said.
The Key Club anticipates many more distribution events in the future and is actively in the process of trying to develop a toy drive for the upcoming holiday season.