On Oct 21. the Varsity Volleyball team beat St. Brendan 3-1 and took home the 4A District 16 champion title.
Last year, the Raiders season ended in the hands of St. Brendan in the regional finals, with the score being 3-2. This year, not only did the Raiders beat St. Brenden, but they also won the District Championship.
"It was a great moment. It was definitely something that we envisioned, but we work hard and that's just one stepping stone to our ultimate goal," said Assistant Coach, Sheila Rojas.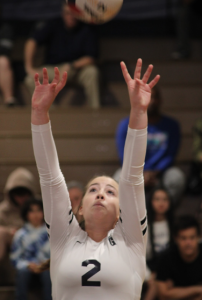 Senior Jackie Taylor had an outstanding game with an impressive 19 kills, nine total blocks, and an assist. She knew it was necessary, not just to win the district, but to get redemption this time around. 
"It felt really good, especially for our seniors from last year. Just being able to get that win for them because I know they ended their season last year. We could still see them in the regional final, but I'm glad that we got the job done this time," said Taylor.
The team's success is due in part to their teamwork and connection, bringing them together like a family. Junior player Julia Rose Rivera came in as a transfer student and was immediately welcomed as a player on the team.
"We hit it off pretty well. Everyone is very loving and nice on my team. So we're like family now," said Julia Rose Rivera.
The team has had an amazing season: they won their first two games in the district round against LaSalle and Calvary Christian and play against Pine Crest Panthers in the Regional Championship tonight at 6 p.m. in the Blue Dungeon. With a win, they'll move on to play in the state semifinals in Lakeland.
"Our ultimate goal is to win states by hard work and working together. As a team captain, my goal is to make sure everyone's focused and everyone's on the same mindset and is on the same page to accomplish what we're trying to do," said Team Captain senior Hailey Brenner.