Construction Leaves Bathrooms in Short Supply
With multiple bathrooms closed for renovations, many are forced to walk far from their classes or stand in line for a longer amount of time to use the facilities. This has caused a negative response from students who wonder, "Why now?"
"I totally understand the need to remodel, but it would have been better for renovations to begin during any of the multiple breaks that we have had, or even during the summer," junior Giulia Francez said. "This has caused ongoing problems which could have been avoided."  
With the atrium bathrooms closed and the art bathrooms containing only two stalls, students in the 300s building have to walk across campus to the Student Union, cafeteria, or to the 400s building to use the facilities. 
"Your teacher obviously wants you to get to class on time… but going to the bathroom is a whole ordeal," said senior Isabella Gonzalez who emphasized that construction has made going to the bathroom a longer trip— leading to much missed class time.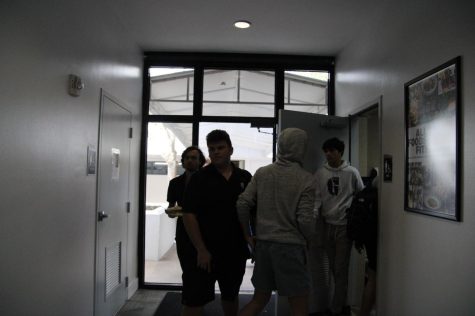 According to Tyrone Sandaal, the Dean of Students, teachers have reported students for taking too much time out of class for bathroom trips. After following up on a report from a teacher with a student, Sandaal was able to get to the bottom of the issue.
"The first bathroom that she went to was occupied. That particular student then had to go find [another] one, [which was] closed, and so it became a lot longer time out of class," said Sandaal.
"The limited number stalls result in overcrowded bathrooms, which lead to delays especially in the Student Union, since there are only two stalls, you have to wait in line and that cuts even more time from class," senior Camilla Saporta said. "There's so many people in the bathroom all at once." 
Female students have been avoiding the girls' bathroom in the 400s building, further adding to the shortage. Senior Ava Seymour questioned why those were not first to renovate.
"The only bathrooms which are in need of immediate renovation are those in the 400s, and that is because students are already avoiding them due to the smell. I know they're planning on renovating them too but I think those should have been prioritized." Seymour said.
According to Seymour, the odor in the first and second floor of the 400s bathrooms has been a concern since the start of the year. While many students have speculated that the drains or ventilation system have been causing the problem, Christopher Done – the Director of Construction and Project Management – explained that is not the case.
"What you smell is not exactly the ventilation. What it is is gray water. A lot of that stuff gets embedded into the grout of the floor and the walls. Over time, you just can't get that stuff out," he said, emphasizing why the bathrooms are in need of remodeling. 
According to Done, the bathroom renovations are half complete. The faculty bathrooms in the art hallway were also switched to student bathrooms, helping alleviate the issue.
"Everybody's done a pretty decent job of putting up with this particular problem. I hope we are patient so that when we walk into these spaces they are cleaner and better lit," Sandaal said. "It's a welcome upgrade, it just takes a little bit of time to get there."