Football Victorious on the Road Against Manatee High School
The Raiders traveled to Bradenton this past Friday and beat the Manatee Hurricanes 20-7 in an intense battle.
Throughout the game, the intensity increased on both sides, making it a very tough match. Running back Sedrick Irvin ran for an easy touchdown in the first quarter. Later in the game, wide receiver Antwaan Mays had a touchdown as well. Kicker Will Betridge made two field goals. 
The Raiders started off with a good first half, and then slowed down during the second half and didn't play as well, scoring most of their points in the first half and becoming a little disorganized during the third quarter. Even so, the Raiders managed to hold the Hurricanes to only one touchdown. 
"The game went well," said offensive coordinator Coach Dixon. "We have some things we have to work on and improve but a win is a win at this point, it's tough to get one."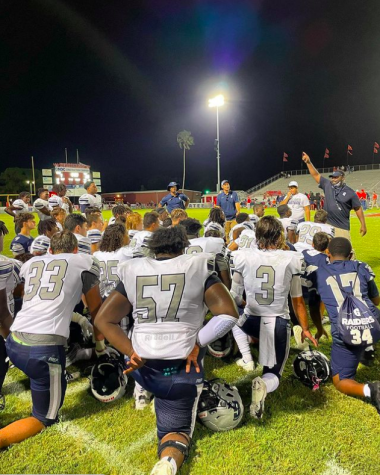 This was the first road game in a while for the football team, due to COVID shutting down the overnight games last season. Even while traveling for the first time in a year, the team still came out and played well.
"It feels great to be back in person, be able to travel with the team, and not worry about COVID as much as we used to," junior offensive lineman Francisco Caballero said. 
Unlike last year, the players are allowed to go to in-person school and play football at the same time. It makes football a true "school" sport that the players thoroughly enjoy.
"It's a really cool atmosphere being able to play football with all the fans and it's really fun," junior defensive back Dariel "D.C" Cannon said.
The Raiders had a good win and will continue to work and improve to reach their goal of becoming the best team in the state. Monday, the team starts preparing to play Palmetto High School. The game will be Thursday, Sept. 2 at home.