Girls tennis defeats Jacksonville Bolles to become Class 2A state champions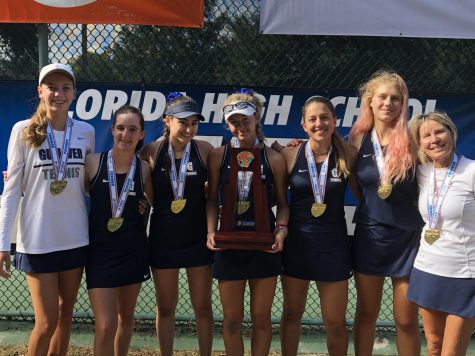 After an action-packed two days of long crosscourt rallies, intense singles and doubles matches, and a great deal of team spirit, the girls tennis team brought their season to a gratifying conclusion with the class 2A state championship on Tuesday, April 30.
The team worked their way through the postseason district and regional tournaments in order to make it to Orlando, where they faced tennis teams from around the state, such as Coral Springs Charter and Tarpon Springs. The final competitor for the state championship was The Bolles School from Jacksonville, FL, who the Raiders vanquished 4-1.
"This season we weren't sure what to expect," admitted Coach Kelly Mulligan. "But the girls came together, had a goal, and they won and it's very exciting. I'm ecstatic."
Despite any anxiety before the match began, the Raiders were off to a good start and won both doubles matches. The number one doubles team, sophomore Sophia Fornaris and junior Chiara von Gerlach, swiftly finished their match with a score of 6-2; 6-0. Meanwhile, the number two doubles team, sophomore Sofia Restrepo and junior Katerina Navarro, dropped their first set but bounced back in the second to win at the end of a close 10-8 tiebreaker.
Needing only two more matches to bring home the trophy, the singles players used the momentum gained from the doubles matches to finish off Bolles. Von Gerlach was the first to finish with a score of 6-0; 6-0, followed by Navarro and Fornaris, who secured the championship for the Raiders, winning her match 6-2; 6-0. Restrepo and freshman Tori Hagenlocker also contributed enormously to the team's victory.
"In tennis, there are never any guarantees," said Fornaris, the number one singles player. "But I knew that if we played together as a team in districts and regionals, we would have a great opportunity in the state title.
With the likelihood of having the same team in place next year, the Raiders will be aiming for  another state championship next season. After this unforeseen success, the team knows well that hard work pays off.