Boys Varsity Soccer concludes season in District Semifinals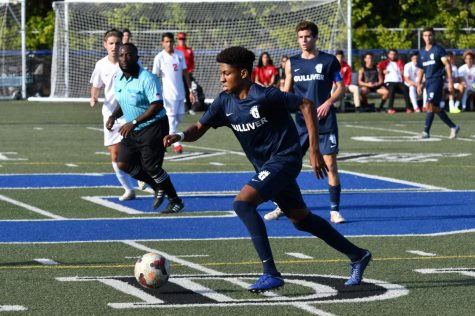 The boys varsity soccer season came to a close Wednesday, Jan. 30 after losing a close 1-0 match in the district semifinals against Westminster Christian.
Many of the players believed that had they been able to finish off Westminster, they could have reached much farther in the playoffs.
"I felt like we were the better team than Westminster," said senior Dylan Poliakoff, the starting goalkeeper. "There are some ways we could have improved, but I think we could have easily won districts."
Despite having their season end sooner than they wanted, the team left the year with many positives.
The team finished the year with a record of 6-9-3. The season was highlighted with a 1-1 draw with Palmer Trinity, a 8-0 win over Pinecrest Prep, a 2-2 draw with Palm Glades, and a 2-0 district quarterfinal win against Coral Shores. Although it was a tough season, most of the players were proud of the hard work they put in to make it to district semifinals.
"We had an amazing coach, an amazing team, and overall amazing support," said freshman Matteo Wakeman. "As a freshman, one thing that's really important is learning. You want to try to pick up from the upperclassmen and learn what your mistakes are and how you can improve."
Another special part of this soccer season was the introduction of a new coach, Chris Bart-Williams, a former professional soccer player and member of the English Premier League. Bart-Williams played for British teams like Nottingham Forest and coached American teams like the Boston Breakers.
"Soccer is about dealing with adversity," said Bart-Williams. "A vast amount of my roster had never played varsity soccer before, and I think [the team] achieved as much they could have done the first year." For next year, he plans to build more teamwork between the players and reach farther in the postseason.
With 11 players on this year's team as seniors, the team will have to build up a young team for next year's season. The underclassmen who had the opportunity to play varsity enjoyed the experience and are excited to step up next season.
"[Playing for varsity] was really hard, but I think in the long run it's going to be worth it," said Wakeman. "Being able to walk out with upperclassmen, being part of a team, and representing your school as a whole is one of the biggest amounts of pride you can feel."