Finding Your Ice Cream Fix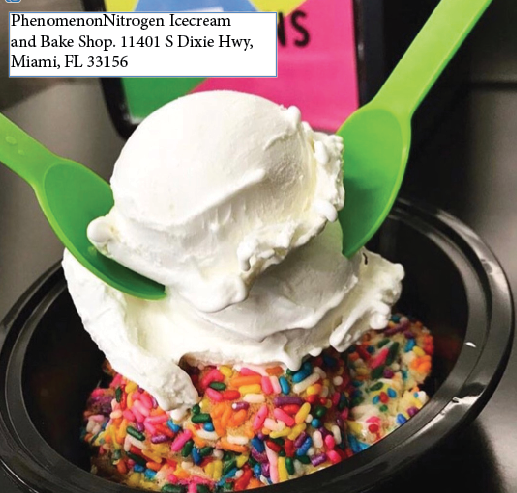 For many, ice cream is a popular go-to dessert or snack.  Here are three delicious ice cream shops definitely worth a visit.
Phenomenom nitrogen ice cream and bake shop, located in Pinecrest, uses the scientific advantage of ice cream creation with nitrogen,  building a creamier texture and taste unlike traditional ice cream. In addition, different types of cookies are baked fresh everyday at the shop. Customers start by choosing a base flavor for the ice cream, then deciding which flavor to blend in your ice cream, and last choosing your toppings. For a regular cup of ice cream that comes with two scoops, prices range anywhere between $5-$8, depending on how much you are adding in and on top of your ice cream. Starting at $9, you can get two scoops of ice cream on top of a cookie in a cup. Additionally, you have the option of customizing your own cookie sandwich. With all these amazing options and different ice cream and cookie flavors, Phenomenom will definitely satisfy a sweet tooth craving.
Located in Kendall, Nanndi Frozen Cream and Pastry Shop offers neither ice cream nor gelato, but a combination of both making a perfect frozen cream. Nanndi chooses every ingredient in making their frozen cream and makes their own mixes. Each batch of frozen cream is made daily at their shop. Flavors vary from traditional to incredible. From flavors as simple as coconut, oreo, and salted pistachio, to flavors as extraordinary as passionfruit sorbet, dark chocolate with candied oranges, and a maria cookie flavored frozen cream, Nanndi's offers it all. Prices range from $5-$10 depending on the amount of scoops you decide you want in a cup.
Also located in Kendall is DIY ice cream, offering a new form of ice cream that has been trending lately. Thai rolled ice cream is made by pouring a base of sweet milk with flavoring of your choice on an extremely cold (-35°C) steel surface and then using a metal spatula to chop toppings into the base and scrape it off the steel creating the rolled shape. DIY ice cream gives you the option of putting your ice cream in a cup, or making it as a taco using a waffle cone and your shell. It takes just three steps to make this delicious creation, choose your flavor, mix ins, and then toppings. Prices range from $6.25-$7.25.
These three different styles of ice cream are sure to help you find your ice cream fix. Just one taste, and you are guaranteed to fall in love.