Jorge Gonzalez wins the Mr. GP pageant fundraiser
Five contestants competed for the Mr. GP crown at the Miller Drive Campus on Dec 11 to raise money for the Student Council. All proceeds from the event will go toward funding senior class trips, such as Grad Bash at the end of the year. The Mr. GP male pageant consisted of three rounds: talent, interview, and swimsuit.
"Well it's a fundraiser to raise money for the senior class. It's mostly for the Grad Bash. Grad Bash is mostly expensive each year, and we're trying to cut it back so students don't have to pay as much," said the student emcee, senior Carly Wood.
Senior Kyle Valdes kicked off the talent portion with his rendition of "Love Sick Blues," the song made famous by the "Walmart Yodeling Kid" (a YouTube viral sensation). Then, senior Jorge Gonzalez rapped words beginning with every single letter of the alphabet in the song "Alphabet Aerobics" by Blackalicious. Finally, seniors Julian Erro, Will Poses, and Nicholas Hassan danced together and wrapped up the talent portion of the contest.
Next, the boys changed into their swimsuits and individually strutted their stuff across the stage for the swimsuit portion.
Lastly, the contestants answered three questions about their high school careers and future plans or aspirations during the interview phase.
The judges then tallied up all the scores from each segment to decide on the winner of the Mr. GP pageant.
The top two contestants, Hassan and Gonzalez, stepped forward as everyone waited for the emcee to announce the first runner up. He announced Hasbun was the first runner up, making Gonzalez the winner of the Mr. GP Pageant.  
"I thought I was going to win, but it is what it is. Jorge had a great talent. All props," said Hassan.
"I had no idea [what Gonzalez's talent] was. I thought he was going to do the alphabet on stage, but I Googled it and it was a very impressive song. I'm very impressed by him. He deserved it," said Valdes.  
Video by Lara Russell-Lasalandra
About the Writer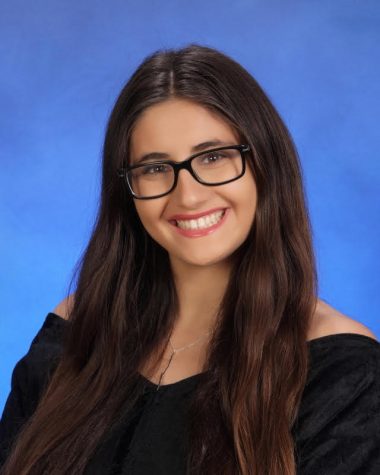 Lara Russell-Lasalandra, Copy Editor and Video Producer
My name is Lara Russell-Lasalandra and I'm the copy editor and video producer for the Raider Voice. I am a senior and this is my first year on the staff....