Freshmen Get a Jump Start on the Year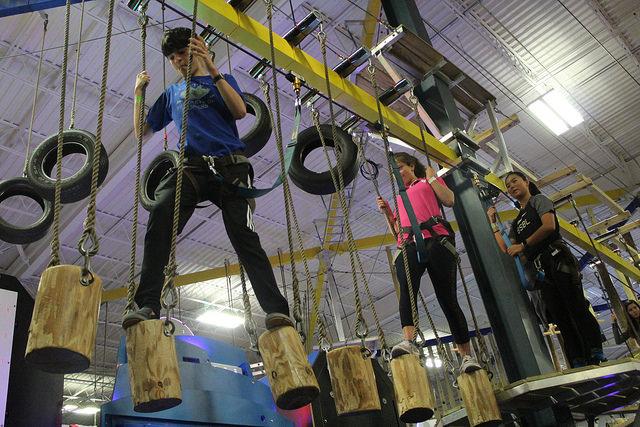 An ordinary Wednesday in October became a day of unexpected fun when ninth graders boarded the buses to Planet Air, an indoor park in Doral, FL.
Every year, freshmen students spend a day doing team-building activities in the gym and at the pool while upperclassmen take mock ACT exams. This year, Activities Director Danielle Bowen had other ideas.
"I was thinking it would be fun to get off-campus," she said. Planet Air was only a bus ride away as well as an engaging way to reward the students for a strong start to the school year. Bowen knew Planet Air's trampoline park, ninja course, zipline, and other exciting activities would be a great opportunity to shake off stress and let loose on a midweek excursion.
Participating students strongly agreed. "I think the trip helped us bond with our friends," freshman Emma-Grace Delvillar said, who enjoyed the variety of activities available.
Trampoline parks are also trending as a popular attraction for kids and teens. Some students, like freshman John Schappert, are experienced visitors at Planet Air and a similar venue, Sky Zone. "I liked playing dodgeball on the trampolines," he said.
Another popular activity was the trapeze swing, a physically challenging endeavor in which participants swung across a cushioned platform on equipment similar to a giant set of monkey bars. Students laughed and cheered as they watched their friends' successful and not-so-successful attempts.
Most importantly, this trip succeeded in meeting Bowen's goal for off-campus enrichment, which she hopes will become a new tradition.