Lana Del Rey rocked fans as a part of her first live performance since 2019 and her resurgence in popularity on TikTok, stopping in the Sunshine State and delivering an illuminating performance on Sept. 23 at the iTHINK Financial Amphitheater in West Palm Beach.
In recent years, Del Rey's popularity paled in comparison to the glory years surrounding her debut. Recently, TikTok provided an opportunity for new potential fans to be exposed to her work. TikTokers used unreleased songs leaked by hackers who accessed Del Rey's hard drive. In May, Del Rey released her scrapped song "Yes to Heaven" due to popular demand which revived her desire to tour.
Opening act Zella Day truly set the stage for Lana's show even if her fans didn't know the words. Audience members swayed and danced through her set and really resonated with the music, making Day a new artist for fans to add to their playlists.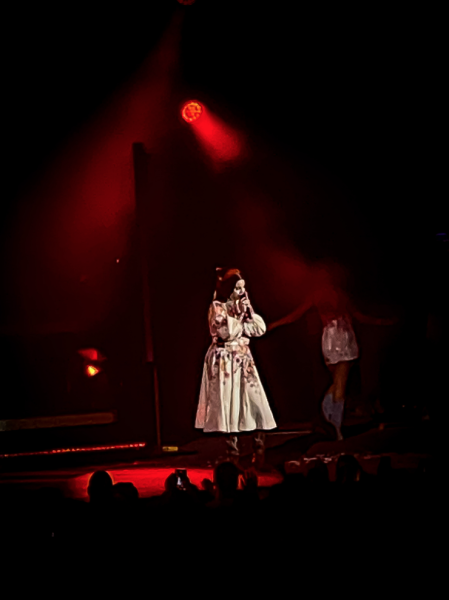 Contrary to prior shows, Del Rey began on time at 9:15. She opened her performance by combining shortened versions of three fan favorite songs: the titular track of her sixth studio album, "Arcadia" and "A&W". The energy emanating from the stage ripped through the audience causing most fans to rise from their seats and remain this way for the rest of her set.
Del Rey followed the trifecta with a performance of "Young and Beautiful", her grammy nominated original song for the 2013 movie "The Great Gatsby". Del Rey's haunting vocals shone brilliantly and was a highlight for many new fans due to the song's resurgence on social media, predominantly on TikTok.
New and old fans alike came together for this opportunity to see her live since her last concert was canceled because of the pandemic. The crowning moment of this concert was when Del Rey performed her song "Ride" prefaced by her monologue from the song's music video. It was intercut with still images and clips of Del Rey's career, including moments from before she assumed her current persona and still went by Lizzy Grant. The energy was unmatched and magical. The crowd knew every word.
On the flip side, Del Rey sang a cover of Tammy Wynette's "Stand By Your Man" to an unsuspecting audience and everyone was enraptured by her interpretation of the song and exploration of an avant-garde country style. The audience was ecstatic, even in the lawn section of the amphitheater. The outdoor setting actually aided in carrying Lana's vocals through the crowd whether they sat near the front or further back in the general admission lawn section.
Del Rey's stage presence–in combination with her vocals and the band composed of heavy drums, electric guitar, classical piano, and powerful background vocalists–pulled the audience into her world of glamor, tragedy, and vintage Americana.
Del Rey, referred to as the Sparkle Jump Rope Queen by her fans, announced her 11-show tour on Aug. 22, only three days before ticket sales. She also gave no presale opportunity sending devout fans off to the races. Tickets dropped at 10 a.m. on Aug. 25 through Ticketmaster and thousands of fans prepared and were refreshing their screens. In another example of Ticketmaster fumbling their sales, they accused many average buyers of being bots while many ticket scalpers got through, leaving many to resort to resold tickets at prices through the roof.
Fans struggled to attain tickets but those that did were surely satisfied and delighted being able to see her once again. Del Rey's tour concludes Oct. 5 but wherever the future may take her, her fans are along for the ride.