Students and faculty gathered in the Blue Dungeon to kick off Hispanic Heritage Month with a musical dance presentation on Wednesday. Two members of the Show Stopper Dance Studio as well as Espresso, a five-piece Latin band, performed during Community Time. 
During the event, dancers showcased a variety of Latin dances, focusing on six particular styles: Cumbia, Cha Cha, Salsa, Merengue, Tango and Afro-Cuban dance. The music provided a glimpse into the various styles of music and dance in Hispanic countries.
"I chose those styles because there is no way we could go through every country, we'd be here for three hours. But these are the biggest ones, you know the tango is its own world. Everything comes from the Afro-Cuban style because so much of the music in Hispanic countries has an African base function to it. So we chose Afro-Cuban and the others were just the biggest styles of the genres," Middle School Band Director Edgar Rubio said.
Rubio introduced the dances, along with a brief history of each. The dancers demonstrated basic steps, and then performed a more advanced routine. For the Merengue and Salsa routines, the dancers invited faculty and students to the dance floor.
"I love the fact that they used the performing arts as a vehicle to really allow our student body and faculty to learn about Hispanic heritage," said Upper School Dance Director Gerri Barreras. "As far as allowing students and teachers to participate, I really believe in inclusivity and engagement. So actually being able to stand up and participate is so much fun, not only for those involved, but for those watching as well," she added.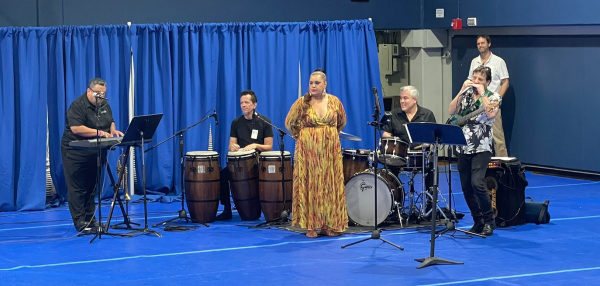 According to Rubio, the event was a good way to introduce an important aspect of Hispanic culture to students and faculty, which may be new to many, while also showing the history of each style.
"I want them to see how we're so related, how the music from all the different Hispanic countries have a tie and it's all basically from the same roots," Rubio said. 
The dance duo from Show Stopper Dance Studio took pride in their heritage, showing many of the styles that originated from their countries.
"Well we are Latino dancers, so most of the styles we danced now we are familiar with because they are from our culture," dancer Julio Allende said. "But the style we enjoy the most and is our favorite to dance is Salsa because it challenges us."