Top Seven Met Gala Looks of 2023
As many may know, one of the most recognized  nights in fashion occurred Monday night.. On the first Monday of every May, Anna Wintour's Met Gala, hosted at New York City's Metropolitan Museum of Art, takes place. Not only is this night very glamorous and full of crazy fashion, but there is always a set theme in which celebrities and public figures are expected to come dressed in. 
This year's theme, "Karl Lagerfeld: A Line of Beauty", was in honor of the late German fashion designer who is known for leading fashion companies Fendi, Chloé, and Chanel. 
Cardi B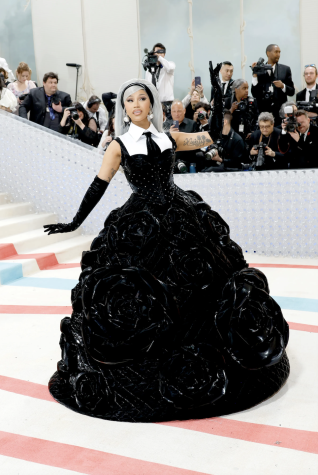 To me, this is one of the best executions of the theme. Something about Cardi B is that she's always on theme and executes it extremely well. She gave us several different looks but to me, this was the most memorable and on theme. For this first look, she incorporated the iconic Chanel flower that can be seen when you shop at Chanel, except these are in black and all along the dress. Both the gloves and the pearls on the corset are a signature look for Chanel, which makes this all on theme. My favorite take on this concept is the fact that she dressed up as Lagerfield himself. The top of this dress has a button down with a tie, very similar to the clothing Lagerfeld wore all the time. What tops this all is the hair color which is identical to Lagerfeld's hair. Her execution overall was absolutely stunning and this look is definitely one of the best I've seen this year. 
Shai Gilgeous-Alexander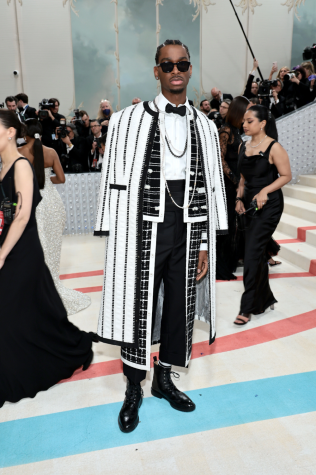 Everything about this look fits the theme perfectly: From the two different colored layers of tweed material coats, the pearl necklaces, to even the basic pant suit underneath, this look outshined many other looks. I expected to see a lot of black and white outfits on the carpet, but this execution was done very well. Alexander was for sure one of the best dressed celebrities/athletes that fit the theme.  
Anne Hathaway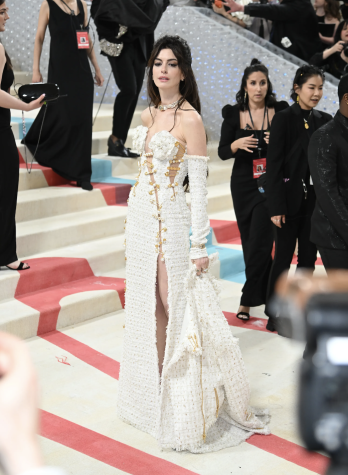 One word stunning. Hathaway wore a custom made Versace dress, which you can definitely tell with the detailing of the safety pins holding the dress. The shape of the dress along with the flower detail at the top really captivates the theme of Karl Lagerfeld. The tweed material is honestly what ties it all together. Chanel was known for its tweed outfits in the 90's. Hathaway's incorporation of the tweed material with the chanel flowers was what made this outfit complete. I also think this was the perfect hairstyle for her to wear, it really captivates Lagerfeld's iconic ponytail. 
Teyana Taylor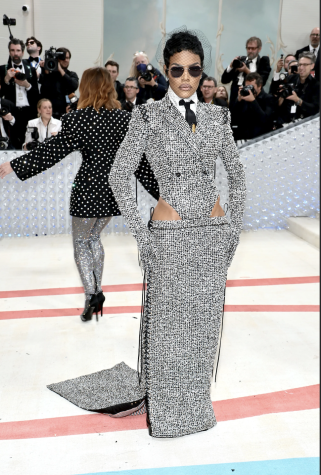 As expected, many black and white looks. This is personally one of my favorites. People's idea of fitting the theme was mostly to incorporate tweed material as well as black and white colors. Teyana Taylor went for the basic Lagerfeld look: Tweed, black and white, and tux. This execution though was amazing. I think this dress fits Taylor so well as well as the cutouts on each side are very flattering. The sunglasses are another Lagerfeld staple in attempts to dress somewhat like him and I think she executed that perfectly. The knit head piece is another staple for Chanel so the incorporation of that was what made the look complete.
Conan Gray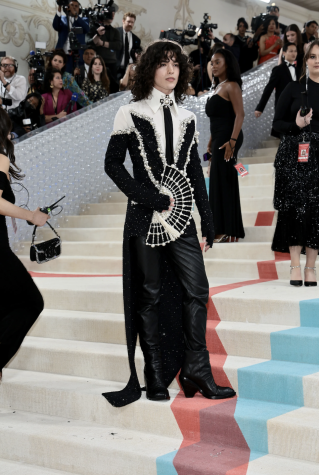 I am in love with Gray's look. I think he hits the theme while adding a little more glamor. Gray's sparkly suit that touches the floor is extremely captivating along with the huge pearls that really capture those hard to miss Chanel pearls. Like many other outfits tonight, Gray also incorporated a button down underneath his sparkly suit. I think the fan covered in pearls as an accessory gives this look more depth and elevates it a bit more. 
Kim Kardashian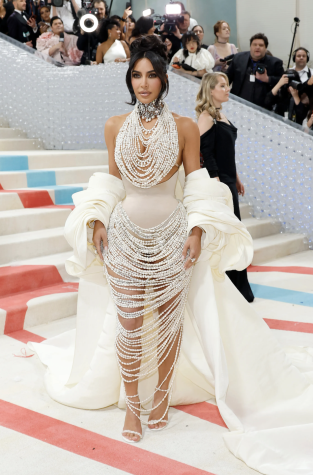 Compared to the rest on this list, Kardashian's look was quite different. Instead of following the tweed material trend on the carpet, she went with emphasizing her well known curves as well as using real pearls as the rest of the dress. I think the hair was perfect for this dress and would have looked too crowded if her hair was worn down. I also love the white draping that she is using as an accessory, it definitely gives this look more life. Despite being different from other looks on this year's carpet, Kardashian still managed to fit into the theme white incorporating her style into it as well. 
Doja Cat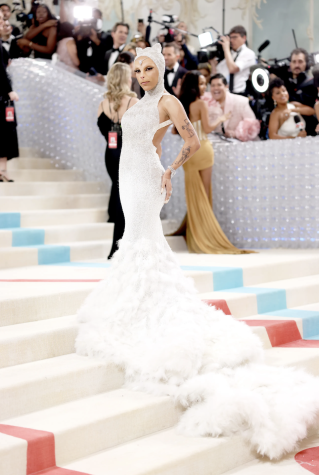 This look was extremely interesting to dissect and look at. Immediately after Doja arrived, there was buzz circulating both Tiktok and Instagram live comments. What's even more crazy is that this look was actually on theme. The halter cut dress is full of sparkles throughout the entire dress which looks absolutely stunning. The main talk about this dress would be the prosthetics on Doja Cat's face that made her appear like a human cat. To tie into the cat illusion, Doja wore her nails to resemble cat claws and the bottom of her dress showed a long train of fur. You might be asking, how does this fit the theme? Well, Karl Lagerfeld drew designs and would always be photographed with his beloved cat, Choupette. What better way to honor Lagerfeld than to literally pay homage to his cat that he loved? To me, this look showed others what we should be expecting from the Met Gala. This gala is for extravagant looks while still fitting the theme. As "ridiculous" as this may look, it was executed perfectly.
Although not all of my favorites were listed, these are the best out of the best. I think this theme could've been better executed on some people's part as well as more versatility in color. Some celebrities that deserve an Honorable Mention because they fit the theme while looking good are: Dua Lipa, Jeremy Pope, and Diddy.