The Curious Incident of the Dog in the Night Time: Venturing into Drama as a Comedic Actress
COMMENTARY
LED lights blaring in my face, the letter in my right hand while my left fidgets with my blue suit: I stood still and counted my breaths as I stared out into the audience on opening night. 
Playing Judy in "The Curious Incident of the Dog in the Night Time" was an inspiring experience in which I expanded my artistic repertoire and stepped out of my comfort zone as an actress. Prior to playing Judy, most of the work I performed theatrically was of the comedy or musical genre. Being comfortable with comedy as a movement inclined actress, it was always a nervous thought to take on a big dramatic role–especially in a play of such serious thematic and theatrical plot as The Curious Incident. Seeing my name next to Judy on the cast list, my body filled with nervousness and excitement. Though my head was swelling with doubts of anxiety, I was excited to prove myself in this new, creative light. 
The rehearsal process for this play was unlike any I've undergone before. Most of the rehearsals I was called in for were intimacy rehearsals, where a few actors would stay long hours to work on emotional vulnerability on stage. To achieve this, our director, Jessica Fox, would dedicate a chunk of rehearsal time to teach us vulnerability exercises meant to aid in our authenticity of the roles played. One of these exercises is called "dropping in." This exercise was used in small scenes of two or three actors, where the characters were typically in a desperate situation requiring extreme focus of the actors. The actors would sit across from one another on stage and maintain eye contact throughout the duration of the scene. The space was to be completely silent, with only a few other people in the room. The actor would then recite their line whilst holding the intense eye contact with the other actor, and Mrs.  Fox would repeat their line, give background context and subtext to their line, repeat the line again, and then the actor would say the line as many times necessary until their delivery was honest and intentional. This was to be done with every line in the scene until every word was fully dissected and understood. The energy and tension during these exercises was palpable. Whether the scene was about an argument, or dealing with remorse and death, this exercise helped me zone in and discover my character a little deeper.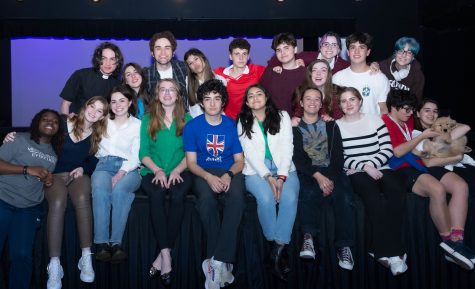 This production not only enabled me to play artistically as a performer, but also as a choreographer. This was a movement heavy show with lifts and busy group movements on stage. Getting to choreograph the train station scenes was really cool, because it wasn't necessarily dancing, it was more movement organization and spacing. It was exciting to choreograph some of the movement for the ensemble scenes, while also experiencing the intimacy rehearsals as Judy.  
Another challenge faced in this production was the accent work. The play takes place in Britain, and all of the lead characters are written to have a standard RP British accent, with the exception of Shioban whose character is written to have an Irish accent. In the beginning of the rehearsal process, I was uncomfortable with the accent, which made character vulnerability on stage that much more difficult. As the rehearsal process progressed, however, I became more comfortable with perfecting my British accent, and the familiarity with it allowed for more freedom when playing my character.
Playing Judy, I overcame artistic mental blocks, learned new skills I was formerly too scared to explore, and fell in love with a different side of theater I previously shied away from. I felt anxious to finally share this artistic journey I've experienced with the audience. But in the end, it was immensely rewarding.
I am so incredibly blessed to have worked alongside such a passionate cast who cared for not only for the success of the production, but also for the journey of the creative process.