Water Polo Teams Place First in Orlando Tournament
The Water Polo teams came out victorious after beating Boca High and Belen Jesuit in the Ian Supra Tournament held in Orlando this past weekend.
The girls team played two group stage matches; they beat Boone 11-3 and Seminole 14-10. They then advanced to the semi-finals where they beat West Orange in a close game of 8-7. In a challenging game against Boca High, they were crowned champions after a 10-9 victory.
"It was really great to be able to win the tournament and I think it showed our perseverance and dedication very well. We played some really difficult games and expect more going forward in the season," said sophomore Reese Rosenthal. "Our hope is that if we keep working hard and improving, we can become state champions."
Meanwhile on the boys side, they had two group stage games and were able to win both; 19-6 against Olympia and 15-6 against Seminole. They then beat Winter Park in the semi-finals with a close score of 6-5. The final game was against Belen Jesuit, the opponent they lost against in regional finals last year.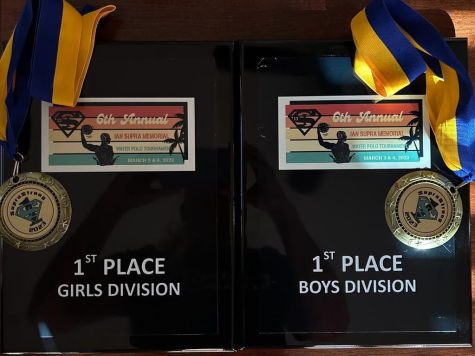 It was an extremely nerve wracking game, the Gulliver Raiders were behind almost the entire game, but in the last quarter during the last play of the game they were able to tie it sending the game into overtime. In overtime the Wolverine's were able to win the swim off, which caused them to have a possession (if they score they win). They luckily missed the chance and in the next possession the Raiders had, senior Harry Sharma assisted freshman Sebastian Piedra to score the goal, making the Raiders beat the Wolverines 9-8.
"It was really nice to get our revenge on Belen and score the winning goal, being this young and being able to score a game winning goal is really special to me," said Piedra. "We know that there is still nothing to celebrate since we haven't achieved our main goal (winning states) but this has definitely given us more confidence to get better for the next few games."
This tournament set the Raiders on the right path but there are still many things to work on.
"I'm very happy with the results from this tournament, both teams did an excellent job," said Head Coach Carroll Vaughan. "Just because we won a tournament doesn't mean we reached our goal, we will now get back to the pool to practice and get ready for the next games to build up for the playoffs."
The Raiders play their next game this Friday against MAST, this game will also serve as the senior day game for the seniors. The boys are now 10-2-1 and the girls are 12-1.