Daryl Jones: An Hour a Day to Achieve Greatness
One hour a day. That was the simple routine Daryl Jones promised himself he would keep when it came to his studies. As long as he consistently worked towards his goals for just one hour every day, he would improve.
"You can accomplish anything if you're willing to devote 1 hour to it a day," Jones said.
Years later, Jones continues to create an impressive legacy in public service built by the work ethic his motto helped him achieve. From being a colonel in the Air Force to serving as a Florida Senator and much more, Jones' "one hour a day" motto has taken him to extraordinary heights.
"There's something that goes with working toward a goal consistently, that makes it very hard to stop, making it very hard to be defeated," he said.
At 18, right after graduating high school, his goal was to join the U.S. Air Force Academy. 
"Everybody was super smart. In order to get there, you have to be three things: you have to be super smart, a great athlete, and a leader," said Jones. 
Jones applied his motto early on when joining the Air Force Academy because the only way he would get ahead was by working hard: there was no other choice if he wanted to climb the ranks. By the end of his nine years of service, Jones was a colonel and one of the best instructor pilots in the Air Force, earning the "Best in U.S. Air Force" title twice.
"I want to serve not only this country, but I want to serve the people too… For the time I was [in the Air Force], I did something. It was the most fun and most challenging thing I think I've ever done," he said.
Jones' commitment to his country didn't stop after the military; he continued to serve in both houses of Congress, first as a Florida Representative and then as a Senator. His interest in politics began early on in high school and came to fruition shortly after leaving the Air Force.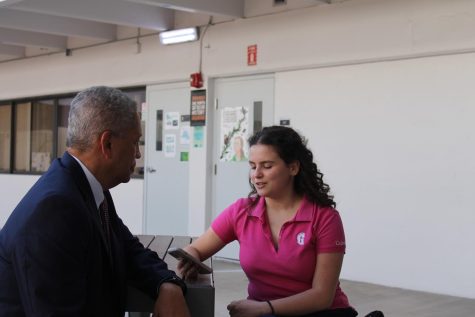 "I knew that I was going to write law," said Jones. "My mom saw it. She started seeing it when I was 14 years old in the ninth grade. I must have heard it more than 100 times from my mother. 'don't run for office,' " he said. While his mother was worried he was going to enter a corrupt system, Jones was solely focused on making it better.
In fact, that's where his motivation comes from. "Wanting to help people, you know— you see problems and you think there's a way to solve it," Jones said.
Evidently, Jones' legislation of the Bright Futures Scholarships is proof of this, among many other bills like Florida's Rosewood bill which paid reparations to the Rosewood Massacre. Bright Future Scholarships sponsors $300 million in scholarships which all Florida high schoolers are eligible to receive if they have the basic requirements of a 3.0 GPA. 
"I felt like it was really important for students to be able to control their own destinies whether or not their parents could afford it," said Jones. Since the beginning of the program, Bright Futures has certainly achieved Jones' goal by helping over 3 million students afford college. Coming from a household where both of his parents were school teachers who earned low wages, Jones would only be able to afford college through scholarships and wanted to provide such resources to kids in the position he was once in.
After years of achievements all thanks to his "one hour a day" motto, Jones has truly made an impact on America and the millions of youth who are no longer held back by the education they couldn't otherwise afford thanks to Bright Futures".