Environmental Club Hosts Thrift Shopping Event to Promote Sustainability
The fast-fashion industry has been pointed to as one of the main culprits prolonging the already dire climate crisis. In an effort to promote environmentally-friendly practices, especially when it comes to buying clothing, the Environmental Club launched their second annual Thrift Shop event.
"The Environmental Club is collecting gently used clothes so that they can do a sale. Consumption of products is probably one of the largest problems with water use and CO2 production. So the idea is to spread good practice to lessen consumption," said Pennie Rotolante, the sponsor of the Environmental Club, who added that the proceeds of the sale will go to the Lotus House.
The fashion industry is a highly unsustainable one: according to the World Bank, 3,781 liters of water are used to make one pair of jeans alone, equating to around 33.4 kilograms of carbon emissions, making the industry responsible for 10% of annual carbon emissions.
Environmental Club President Maya Gowda explained that the main goals of the event are to spread awareness about sustainable practices and limit the community's consumption of clothing.
"I hope students understand the importance of conserving our environment because Miami, as it is, is a frontline community in the climate crisis so we're all going to be impacted if not already impacted by the climate crisis so we should start making unsustainable changes now," Gowda said.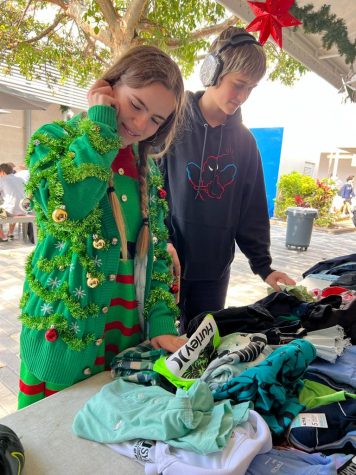 Biology and Environmental Systems and Societies teacher Carla Carmona explained that thrifting is a great way to practice environmentalism because the practice keeps clothing from going to a landfill. Instead of ending up in an incinerator, when a piece of clothing is thrifted, it gets a new life in a different person's closet. 
"Instead of buying new, you're getting something that's already there so it's really doing a huge service especially for things ending up in the trash," said Carmona.
The process of manufacturing clothing is also largely unsustainable. According to World Wildlife, a single cotton shirt consumes 2,700 liters of water, enough to sustain a person for two and a half years. Microplastics are also a major component when it comes to producing textiles. The European Environment Agency reported that over 14 million tons of microplastics have built up on the ocean floor.
"These fibers as they shed off as we wash them are actually introducing microplastics into the environment and most fast fashion is not using natural fibers such as cotton," said Carmona.
Carmona also pointed out that the fashion industry – especially the fast fashion sector – is a human rights issue as much as it is an environmental issue. According to Human Rights Pulse, 97% of all fast fashion is made in developing countries where laborers face poor working conditions and in-factory abuse.
The Environmental Club advises that before you buy your next piece of clothing, ask yourself how many times you are going to wear it— is it really worth it? Try to purchase "capsule pieces": pieces which are timeless and can be worn for years after purchase. Keeping a capsule wardrobe (along with a few statement pieces) and limiting your purchases of cheap, easily-broken garments is a step in the right direction towards maintaining sustainability when it comes to fashion.