Art With Me: A Burning Man in Miami's Backyard
Finding its origins in Tulum, Mexico, Art With Me was a two day festival that took place the weekend leading up to Art Basel. Set in the Virginia Key Beach park area from Nov. 26 to 27, the festival brought the best from the worlds of culture, art, music, and fashion together for attendees of all ages.
One of Art With Me's primary purposes was to serve as a platform for artists of all mediums to showcase both their craft and insights. Art With Me fulfilled this goal through the festival's layout: an entire marketplace dedicated to vendors and their artisanal wares, several stages each varying in theme set up to host as many musicians as possible (although predominantly electronic, many eclectic acts from other genres were featured), wellness tents each varying in offerings, and art installations were thoughtfully located throughout the festival grounds. 
Even the placement of Art With Me's facilities were considerably well thought out— to enter, one walked through a maze adorned with phrases painted on signs, all of them advising attendees to live through the next few hours with an open mind. "Enjoy this moment. There will never be one exactly like it," was one in particular that seemed to ring truthfully for many attendees. 
"It was such a fun way to get into the festival. It prepped you for everything else that followed," said festival goer and senior Chris Garcia.
After exiting the maze a first stop for many was the Immersive Tent. While featuring a multitude of diverse experiences, one considered especially captivating was the Earthglow performance. Earthglow involved musician Annu donning high-tech gloves that allowed for the playing of melodies through hand motions and poet Sian Proctor, one of four people launched into Earth's orbit through the SpaceX operation Inspiration4. Through poetry and music, the two conveyed the deep change in consciousness brought out from viewing the Earth while in orbit: commonly referred to as "The Overview Effect"
"The poetry given by Proctor over the piano and singing performed by Annu was beautiful and really touching. The visceral nature of her experience of the "overview effect" and the details of her personal struggle, her failures and successes, and how they lead to her journey in space were beautifully stated in her stanzas." said Garcia.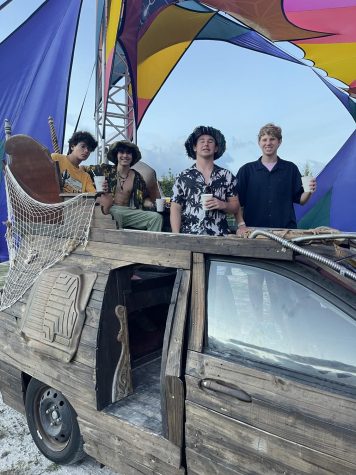 Upon leaving the Immersive Tent, the path leading to the largest festival area took one through an artisanal marketplace. Vendors sold homemade wares ranging in everything from clothing, jewelry, incense, and even their own artwork. If one left home and felt ill-dressed in this bohemian scene, the marketplace offered everything necessary for a complete wardrobe redo.
Many of Art With Me's music stages became accessible after exiting the marketplace. The music featured performances from both renowned international and local artists.
"The music at the festival came from all different fields of art: hip-hop, low-fidelity, rap, and the list goes on. On our loop around the venue we stopped and listened to two performances by Henry Green, which I really liked. If it wasn't for Art with Me, I wouldn't have discovered him otherwise." said senior John Zamora.
Along any path existed many art installations, each one showcased in a different artistic medium or style. Many artists were actively completing their works at any given time, making for an experience that felt intimate to viewers. Interactive art installations were also present through the form of VR and DIY art stations.
"At one bench there was a poet with a typewriter where he would write a poem at the suggestion of any subject. Even if you didn't engage with every installation it was captivating just to see artists engaged in their craft." said senior Noah Reiter.
With Art With Me's ocean of offerings, the event didn't just have something for everyone. But it beckoned everyone to try some of everything the show had to offer. Certain art exhibits could even be played on by children and an entire section of the festival was dedicated to turning young minds into art gurus through creative projects. Art With Me allowed people from all walks of life to come together to learn, explore, and connect. Many look forward to it's return next year.