Drama Department Puts on Annual "2450" Comedy Show
Laughter echoed from the drama room as the Theater Department had their first performance of the school year. "2450" is an original show that the Theater Department runs yearly. However, unlike many plays where there is an overarching story, "2450" has no story. In actuality, it is 24 skits in 50 minutes hence the name "2450."
The idea of the show was thought up by theater department teacher, Jessica Fox. When creating the show she asked herself, what's manageable for students to write and perform in a month? Her answer was sketch comedy. "We take our model from SNL and how they produce their content. They take a week to produce a show. But, because we are not professionals, we take a month to brainstorm ideas, draft them, script them, and memorize lines. We ask ourselves what annoys us or what we find irritating or funny and we just write scripts," said Fox.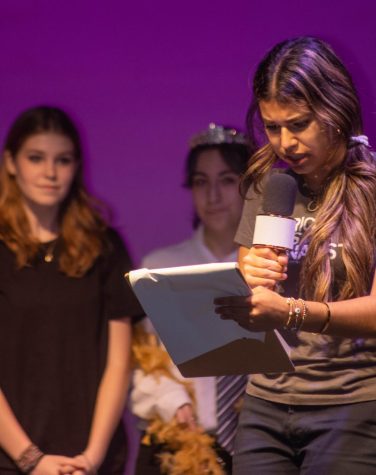 Fox originally felt that the name of the show was rather bland, "Comedy Skit Showcase." So, when Fox became the head of the Theater Department, she remodeled the original model and named it after a pun. "Our troupe number, which is randomly assigned from competition, is 2450. Why don't we make a gag out of that and make 24 original skits in 50 minutes?" Said Fox.
So far the annual performance has been received very well over the years. "This is the fourth iteration of the show. It would've been the fifth however 2020's "2450" show was canceled because of the pandemic. 
"The parents and the students alike all love it."
The reason that Fox loves doing it over and over again each year is because it's one of the very few things the department does every year that is an original piece. Fox adds that "It gives the upperclassmen opportunities to learn how to direct and gives the underclassmen something that they can work with. Two minute skits work really well to get shy freshmen out of their shells and ready for competition later in the school year."