Salsa Night Continues Hispanic Heritage Month Celebrations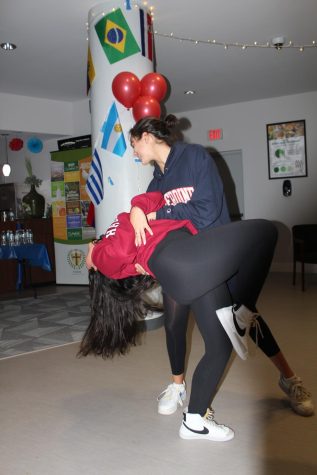 Latin music reverberated on Mon. throughout the Student Union as students learned a new (and useful!) skill: salsa dancing! Salsa Night took place Tue. as a celebration of Hispanic culture during Hispanic Heritage Month.
"​​The students are so immersed in the experience. We end up dancing and having a great time. That's my one expectation for tonight: that we all have fun and a great time," said Ms. Calderin, a world languages teacher who helped organize the event.
Salsa Night has been a yearly tradition which has been going on for well over five years according to Ms. Calderin. This year, the Spanish Club joined forces with both the World Languages Department and the Spanish Honors Society to plan the event. To teach the dance technique, professional salsa dancers from Salsa Lovers performed throughout the event and taught students, faculty, and staff how to salsa. From the sidestep to rocksteps, they covered the basic foundations of salsa.
What first began as an evening with great turnout quickly dissolved into only a handful of participants remaining on the dance floor. That isn't to say, however, that the event wasn't a success.
"I think everyone enjoyed it, the dancers we invited were great and we saw many teachers have a fun time," said Lorenzo Jaime, the President of the Spanish Club.
For the participants that chose to stay for more than 30 minutes, their energy kept the dance floor vivid with movement and the night was not lost to a decrease of attendees.
Along with the steady beat of music, hispanic dishes were served. Students could choose from a variety of Hispanic dishes such as pastelitos and tequeños.