The Metrorail: An Underappreciated Form of Transit Available to Students
When one thinks of transportation around Miami, our minds tend to drift towards a hectic I-95 or a congested US-1. Or, perhaps, one may think of taking the bus, an Uber, or using a bike to get across neighborhoods. But more often than not, the Metrorail is an alternative form of transportation that usually isn't considered by students. However, becoming a commuter on the Metrorail can offer many benefits.
The Metrorail, a 24.4 mile-long line of a mainly-elevated rapid transit railway system, extends from the Dadeland South Station, through the metropolitan area of Brickell and Downtown, all the way to its northernmost station, Palmetto Station. Even then, compared to other public transportation railway systems like the one in New York or Chicago, the Miami metro system is quite meager. With only one main line (the Green Line) and the newly added Orange Line that connects to Miami International Airport.
As a daily Metrorail commuter myself, I have encountered little to no problems with the "metro." It more often than not will arrive on time and get to your destination faster than a car would. Moreover, you don't have to pay for gas, insurance, valet, or a lease. The one-time use fare is $2.25. However, students in 1st to 12th grade can get a discount fare rate of $1.10.
I am fortunate enough that if need be, I can buy a car. However, it's not only the ease, but the speed at which I get from my house in Downtown Miami to the Dadeland South Station — the station closest to campus — that makes the metro the better choice. Riding the metro also puts one less car on the road, decreasing riders' carbon footprint.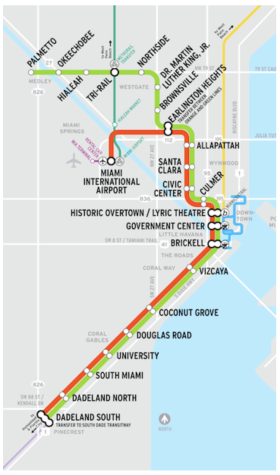 Thanks to the Metrorail, my mornings aren't very complicated. Every day, I wake up at 7:00 a.m., make myself a quick breakfast, and by 7:25 a.m. I walk to the Metromover in Downtown, which takes me straight to Government Center Station. Sometimes, however, I'll bike for three to four minutes. Then I'll wait for the 7:35 train to stop at the Government Station, and by 7:50-7:55, I arrive at Dadeland South. The 10-mile journey from the two stations takes no more than 20 minutes, ensuring I get to school on time. 
Unfortunately, due to the limited single line of the metro, this form of transportation isn't a viable option for everyone. For example, those who live in and around Homestead don't have the option; the metro does not extend that far south. However, If you live either in Coconut Grove or Coral Gables, I would recommend this alternative form of transportation to get to school. It skips the traffic of I-95, and, depending on how close you live to a station, it can get you to school in under 20 minutes.