Supporting IT: Aaron Gray
"No internet connection"… the phrase every student and teacher dreads on their computer. "How can I get my work done," I can't turn in my assignments," "I can't continue school without Wi-Fi." That's when IT Support Specialist Aaron Gray comes in.
"I have always been fond of helping people around me regardless of where I am," Gray said. 
Gray first came to Gulliver to support teachers and staff with technical issues. As time moved on and more problems arose, Gray started to also work with students. He helped them with technical issues they were experiencing to help make their school day run smoother. 
"I have a history with really good technical skills, problem solving, selling services, completing services and things of that nature which is why working with students is not a problem for me," Gray said. 
No matter the problem or technical challenge, teachers and students agreed that Gray always has a way of figuring it out.
"Aaron is super knowledgeable and he is always willing to fix the problem," said science teacher Luis Luis Fayat. "When there isn't a quick and easy fix, he stays on the problem and eventually figures it out. He goes out of the way to meet your needs and I am grateful for that."
From a young age, Gray's work with technical support sparked something inside of him. In high school, Gray was in the Computer Maintenance Technology academy and graduated with a CompTIA A+ Certification. Even after high school, Gray continued to work alongside his teacher to develop his skills. 
"After I graduated, I went back to my same teacher, Bevance Lynch. I went back for network training, where he embedded networks standard for terminating cables and building a small network," Gray said. "The foundation of my training came from my teacher."
Grays' work not only impacts the school community but also the larger community around him. Before working at Gulliver, Gray was a part of the Geek Squad in Pinecrest.  
"I had to deal with cell phones, Macs, PCs, irate clients, awesome clients, selling, completing services, shipping, and closing duties," said Gray. 
The work also extended to his free time where he enjoys experimenting with newer technology.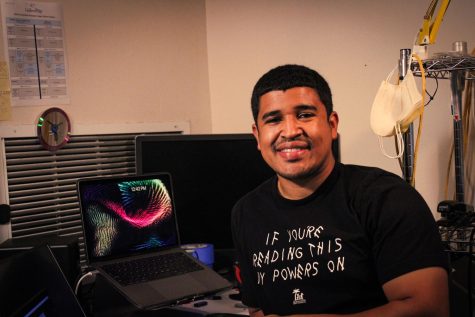 "I'm very project oriented and I have to be always doing something productive to feel accomplished and continue my growth as a person," said Gray. "My hobbies typically involve working on IT related tasks, mounting TV's, hooking up audio and video equipment, and experimenting and installing smart home products."
Gray continues to give back to his community in any way possible. He helps the school remove all the old computers and ipads to make space for newer technology. This may be a tedious process for Gray, however he wants to make the environment the best it can possibly be. Gulliver's community propels him to continue putting his best foot forward. 
"I treat everybody like my client. So when you have that mentality, and when you're treating everybody like a client, instead of a customer, you have a kind of relationship with them where you want their best interests for them in regards to their technical experience," Gray said.