Jen Maxfield Celebrates the Release of her Book, "More After The Break" at Books & Books
Broadcast journalist and Columbia University professor Jen Maxfield celebrated the release of her new book "More After the Break" with a Q&A event at Books and Books in Coral Gables last Wednesday. Her book tells some of the most impactful stories of her career.
"This book is born out of my genuine curiosity about what happened to those people that I never stopped thinking about," Maxfield said.
In her book, Maxfield revisits ten stories she reported on in the past. From domestic abuse survivors to people whose family members were murdered, Maxfield goes back to a variety of different stories.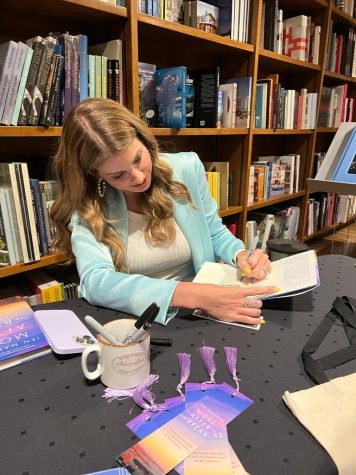 "There were certain people and certain families and certain situations that stuck with me for years or even decades after that live shot pulled away from the scene, after their names faded from headlines," Maxfield said. 
Along with discussing the release of her book, Maxfield offered valuable insight to the toll that reporting on heavy stories takes on a journalist's mental health.
"The fact that Jen admitted that working in journalism can take a huge toll on your mental health was really interesting to me because it helped me realize that even though most journalists seem pretty relaxed about some news that comes out, they might get really stressed out when they're not on camera or when they're all alone. I like how that's something that she had the courage to open up about," sophomore Natalia Aguilar said. 
Maxfield's former student, Palm Beach broadcast journalist Caroline Coles, moderated the Q&A and offered valuable advice to both the live audience and those listening in via the live podcast.
"I think it's important that you study the news, you're aware of what's going on around you. Also, I think it's so vital to be a people person. People have to feel like they can trust you," Coles said.
Both Coles and Maxfield offered insight to what it's like to work in the field of journalism. This insight resonated with some of The Raider Voice and Raider yearbook staff members that attended the event.
"I really liked the interview because it gave me an idea of how it's like to be a journalist in the real world," junior Andrea Malpica said.