Students Give Back During Earth Week
Last week, the Environmental Club hosted a variety of activities on themed days leading up to Earth Day on Friday, Apr. 22. Students gave back to the environment and engaged in a pro-environment lifestyle, from bringing reusable water bottles to "thrifting" clothes with classmates.
In the first event of the week, students were tasked with bringing a reusable water bottle to participate in a raffle. This helped to stop students from using plastic cups at lunch, which can contribute to less harmful plastic waste. On Tuesday, students were allowed to wear green to school to spread awareness for the Earth. On Wednesday, students had the opportunity to receive a native plant for bringing in a reusable container. These plants were either planted in the garden or taken home by students.
The activities not only helped the environment, but students were also able to gain from the events too. On Thursday, students were allowed to bring in three lightly used items to be used in a school "thrift shop". After school, the shop opened for people to buy the items and reuse them.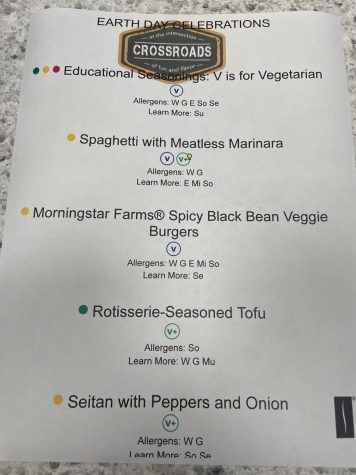 "The Thrifting Thursday was a great start to community engagement and will have a helpful impact in helping offer sustainable clothing alternatives and offer options for people in need," said junior Gabby Gleason. "Next time I would prefer to also facilitate some more education with each day and have more broadcasting."
The Environmental Club donated the proceeds from Thrifting Thursday to the Lotus House organization, a shelter for women and children in Miami.
To end the week, the school was challenged to eat vegetarian on "Vegetarian Viernes". The school took a pledge to not eat meat, and during lunch students were served "veggie meat" and plant-based food in the cafeteria.
Earth Week is expected to become a school tradition, as members of the Environmental Club will plan more in advance for next year's event.