Everything to Know About the 2022 Grammys
Last Sunday, the 64th Grammy awards took place as tradition, bringing back all the excitement that was missed during the last two years due to COVID precautions. Old and new artists took home the golden gramophones, ready to continue their music careers into the next year.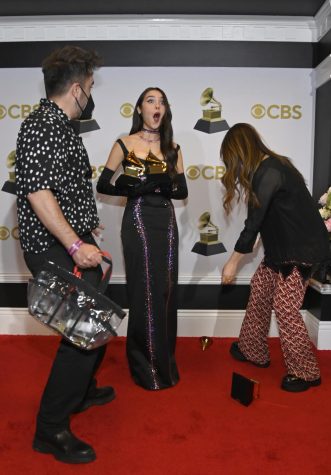 Several performances took place from both up-and-coming artists and already popular figures, who showcased their award-winning music from the last year. The performers included Olivia Rodrigo, Billie Eilish, Lil Nas X, Justin Bieber, and many more artists. These performances got the audience excited and on their feet.
The Grammys began like usual with the celebrities and nominees showing off their outfits, inciting the typical debates over whether they were fabulous to questionable. The red carpet was filled with reporters ready to document the night ahead. However, several anticipated artists were disappointedly not present, including Taylor Swift, Kanye West, the Weeknd, Adele, Lana Del Rey, and Selena Gomez, despite their nominations. Also missing was the hit band Glass Animals, whose song "Heat Waves" is currently No. 1 in the country, due to their lead singer testing positive for COVID-19.
The awards ceremony itself invoked many emotions for viewers. There were many first-time winners, including Doja Cat and Rodrigo, who brought home three awards, including Best New Artist. Also, the group Silk Sonic brought home four awards for their song "Leave the Door Open".
Not only were there stunning performances for songs from k-pop band BTS's "Butter" to Lil Nas X's "Industry Baby", but the receiving of the awards also brought some unexpected performances. When winning Best Pop Duo for their song "Kiss Me More", Doja Cat and singer SZA were both late to the stage. SZA claimed she fell off her bed before the show, causing her to be on crutches, and Doja Cat was in the bathroom when the award was called. She hurried out and onto the stage, just in time to give an emotional speech. 
The Grammys also transitioned from the exciting performances to a special and solemn video, in which President Volodymyr Zelensky of Ukraine spoke in a prerecorded address, invoking hope and inspiration. Zelensky tied together the war and music and ended with a moment of silence for Ukraine during its ongoing humanitarian crisis due to the Russian invasion.