Celebrating Culture with "It's a Small World" Tradition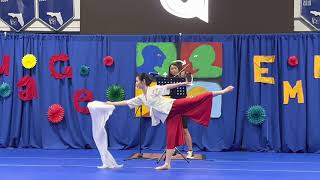 A parade of national flags, students proudly wearing their cultural dress, and varieties of languages heard throughout the Blue Dungeon: these are all sights from It's A Small World, an annual event hosted by the World Language Department. This year's theme was "Language Empowers", with over 55 countries represented in the student body. The event, which was held on Mar. 9, gave students an opportunity to celebrate and learn about the dozens of cultures and countries that make up the campus community.
"With the celebrations, we aim to foster strong and solid ties among all the members of the community," said language teacher Alicia Cofino, one of the main organizers of this event.
After a week of decorated school hallways and cultural celebrations, the culminating assembly began with the Parade of Nations, where volunteers marched in pairs across the gym, carrying flags representing the student body's nationalities as country names were announced. After this, students and professionals performed a series of dances, plays and musical performances in which diversity amongst languages and cultures was tangible. 
Students showcased their talents, and cultures with a total of 15 performances. Chinese students performed the "Dragon Dance" to promote good luck. Juniors Heloise Sauvage and Nicolas Chesnick interpreted German and French piano pieces. Drama and French students enacted several plays and recited short poems. Senior Sebastian Fernandez performed "Dime", a song he composed himself. A group of Hispanic students, accompanied by Argentine opera singer Carlos de Antonis (featured on America's Got Talent), also performed "Me maten", a Spanish urban song.
Students loved the event and found it very inspirational and informative. 
"I thought it was very informative and it was interesting to learn about different art forms and cultures around the world," said freshman Mirel Chaia.
Music was present throughout every single one of the presentations. This promoted the most universal language around the world: music.
"One of the things we're promoting here at It's a Small World is language. We thought we would take pride [in] speaking one of the least talked about languages, which is the language of music, and that's a universal language," said junior Mateo Acosta, one of the urban music performers.
The message from this celebration was clear: never give up on learning a new language.
"Never stop [studying] something different from what you are used to study, because [there's] always something to learn," advised de Antonis.