"Euphoria" Controversy: Glorifying or Honest?
The show has inspired debate over whether its portrayal of teen drug abuse is accurate or glamorizing.
Jade Garcia, Social Media Editor
March 10, 2022|181 Views
Euphoria's Season 2 finale, released in late February, sparked the next rounds of the ongoing debate regarding the show's portrayal of controversial topics.
Since the beginning of HBO's hit show Euphoria, it's been receiving mixed emotions regarding the content that is portrayed in the show. The show, which can be streamed on Hulu, tells the story of teenagers in an American high school discovering themselves and living lives full of drug abuse and trauma. Although viewers see what happens in all the characters' lives, the show is all narrated by the protagonist Rue Bennet (played by Zendaya), a 17 year old girl who is addicted to drugs and has been in and out of rehab. With such sensitive topics regarding substance use, addiction, abuse, and more being discussed, some viewers have expressed their varying feelings about the show's artistic portrayal of these topics.
Health teacher Suzanne Landsom expressed her opinion on the debate surrounding whether the show's education and disputable sides connect or clash. For Landsom, Euphoria does not portray drug use in an accurate way, but instead glorifies and fails to acknowledge the seriousness of the topic.
"Many of the topics discussed in the show also make it seem as though everyone in high school is doing these things and it may lead teenagers to think their behavior is okay," Landsom said. "I think the use of technology and access to these shows without parental controls exposes teenagers to unrealistic views about drug and alcohol use."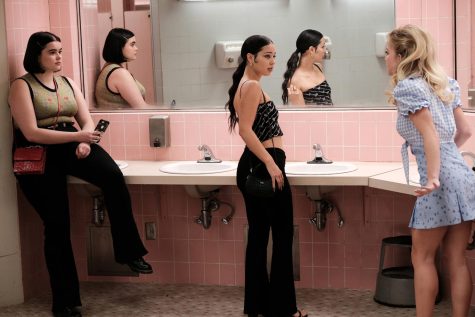 In February, the organization Drug Abuse Resistance Education (D.A.R.E.) condemned Euphoria for its harmful portrayal of teenagers and substance use. However, creators of the show and Zendaya herself defended the show, stating that it is "in no way a moral tale" and simply serves to raise awareness and connect with viewers facing similar struggles.
Junior Susie Gascon has watched Euphoria since its release and believes that there are some aspects of the show that otherwise spread awareness about often taboo issues surrounding teenagers.
"Since I haven't seen the abuse of drugs around me, I find Euphoria educational in the way that it gives me an understanding of how someone's life and surroundings may be affected by the use of drugs," Gascon said. "It's also a TV show though, so it's bound to make things seem appealing rather than dangerous. I find that it demonstrates important topics constantly and can be very beneficial to watch, but everyone will have a different opinion."
Especially after seeing debates online, some viewers see both sides of this ongoing debate. For Junior Miranda Martin, Euphoria serves more as a form of entertainment, but also provides insight to the struggles of teenagers with drug abuse.
"It shows the viewers how drug addiction can affect not only yourself but also the relationships arounds you," Martin said. "I do see why people would think it glorifies drugs in a way, because the show mainly revolves around a seventeen-year-old drug addict, but at the same time I also see why people would disagree with this because they're just trying to teach you something."