Ana Paula Nuñez Returns to Guest Speak for Business Students
Nuñez, Global Communications Leader at Boeing, visited for a Black History Month event
Last Wednesday after school, the Business Club and the National Business Honor Society hosted Boeing Global Communications Leader Ana Paula Nuñez. It marked her return as a guest speaker after appearing last year to speak at the Black Business Leaders Panel, hosted in collaboration between the Black Student Union and the Gulliver Business Club during Black History Month.
Ana Paula touched on a variety of subjects over the course of the presentation, with topics ranging from her natural love for telling stories to her experience as a woman of color in predominantly white male dominated industries. She highlighted a variety of accomplishments that linked back to Black History Month, such as the development of Google's new Real Tone feature on the Pixel 6.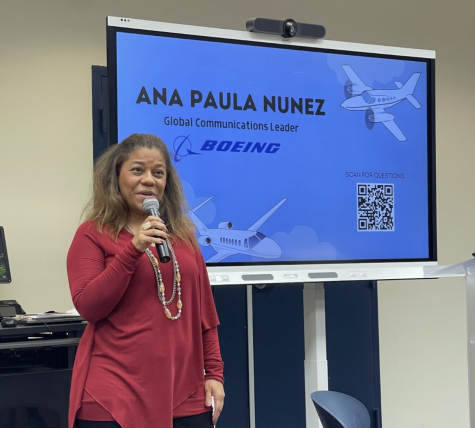 "This approach to Black History Month, more of what's going on now and celebrating the now in the examples she gave of the Google ads, was spectacular." said Business teacher Josue Basterra. "And then, more on the career development and the importance of finding mentors as a crucial element to moving forward in your professional career was a very important takeaway."
Ana Paula's appearance as a guest speaker also marked the return to a much more in-person style of club activities. Although the Business Club hosted an impressive assortment of guest speakers last year, ranging anywhere from a Wells Fargo Financial Advisor to the President of Bulgari in Latin America and the Caribbean, they had yet to have an in-person guest speaker up until this point.