JSU Remembers Holocaust with "Hate Ends Now" Boxcar Exhibit
Throughout last week until Feb. 2, the Hate Ends Now group in conjunction with the school's Jewish Student Union hosted an interactive event in remembrance of the Holocaust by bringing a boxcar exhibit to campus.
The boxcar was an exact replica of those used to transport captive people to concentration camps during the Holocaust. Inside this boxcar was a roughy 12-minute presentation about the significance of the boxcar and the history and legacy of the Holocaust. The presentation, projected on the inside walls of the boxcar, showed survivors recounting their experiences, the propaganda targeting the young and easily influenced, the heavy censorship of media, and much more.
"It was appalling," senior Allison Keepax said. "I went into the exhibition expecting a brief history of the things that we had already gone over in class years ago. Instead, I truly learned just how bad it was. It wasn't just Jewish people, but also LGBTQ people, Black people, disabled people, and so many others. It was truly a horrendous part of history."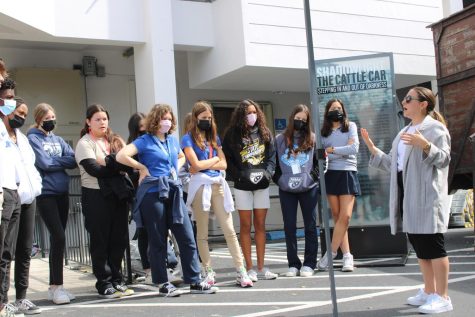 Along with the cattle car exhibition in the parking lot, the Hate Ends Now group held another smaller event, bringing in a small canvas and ink. Using the supplies, students each made a symbolic mark with a thumbprint on the canvas, vowing that they would not let the spread of hate, racism, and antisemitism continue.
"It's crazy to believe that there are people out there that think this event never happened and that there are people that are trying to erase such a horrible part of history," said junior Hadley Bowen. "What this group showed us was, in my opinion, very eye-opening."
The boxcar event was held not only to spread awareness of the hate for these oppressed groups, but also to recognize how these events are being censored and even forgotten across the world. According to representatives of Hate Ends Now, it is important to pass down these stories to the newer generations so that they will not repeat the same mistakes that happened in the past.