Jewish Student Union Members Break Their Goals
Members of the Jewish Student Union (JSU) gathered Tuesday after school in the Student Union to participate in one of the year's most unique events: board breaking.
Upon entering, students received karate boards and were told to write down their goals for the new year at the center of the board. Their boards were then placed on top of two chairs around the room, where students could chop them in half using their hands, thus breaking their goals. After each member broke their board, students congratulated each other by saying "Mazel Tov!", the Jewish way of congratulating someone.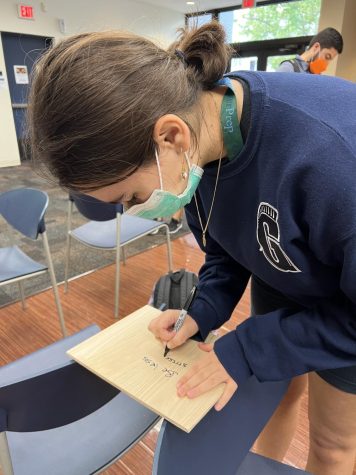 "My goal was to get into college," said JSU board member Jacob Gelrud. Other goals students wrote included traveling more, drinking more water, and being less stressed.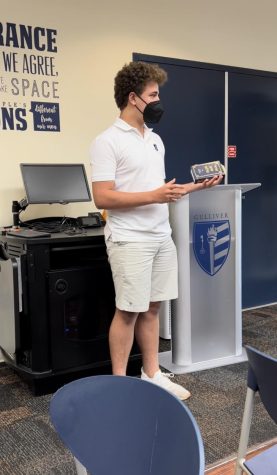 Co-President Luiz Gandelman inspired members with a story that he delivered through a speech. 
"In the morning service, it ends with the Adon Olam. The last line says, 'God is with me, I shall not fear, my body and spirit is in His protection.' Now you don't have to believe in God for this line to mean something," addressed Gandelman to the members. "What this line tells me is that I don't have to fear because God is with me whether that be, for me, God, or for others Allah, Jesus, or your own spirit, just know that you have something inside of you that's going to help you push through and will make even what seems as the biggest obstacle in your life seem like that thin little wooden board you can just cut in half."
Gandelman then went on to discuss the importance of recognizing obstacles as "little speed bumps" along the way which, in the long run, will make you a stronger person. Gandelman emphasized on the importance of looking at obstacles not as a source of stress or discouragement but as a source of motivation.
"Jewish people don't look at the sky and say, 'why is this happening to me?' We look and say, 'so this happened, what am I going to do now? What's going to come out of it?" he said.
The Jewish Student Union is a Hebrew culture club that aims to educate the student body by bringing fun events to campus. The club was officially brought back to the Upper School in 2020 and since then has been hosting successful events open to all.