Mental Game: Athletes Break the Stigma Around Mental Health in Competitive Sports
Following the 2020 Tokyo Olympics, several star athletes have shined a light on mental health: a critical priority for success on the field, in the gym, and on the ice. Even at the high school level, balancing school work, sports, and a healthy mind is a challenge many students struggle with every day.
Competitive sports can be demanding on the mind, especially for growing teenagers. Many student-athletes' weeks are filled with practices and games, as well as hours of homework they must keep up with. The stress caused by this routine can build up and, in some cases, become too much. Athletes struggling with mental health may face challenges off the field, such as lower grades, social struggles, and less time to clear their minds. Finding a healthy balance between school, sports, and social life in the mind of an athlete can become difficult.
Struggles with mental health are not uncommon for competitive high school athletes.
"Although soccer has been the most positive aspect of my life, sometimes the pressure of playing at a competitive level gets to me because there are other people that I have to play for or impress," senior Olaia Rackauskas, a member of the varsity soccer team, said. "There have been multiple times where I felt my self-confidence lower significantly. At times, this caused me to have difficulties in having the same love and drive for the sport."
"
Professional athletes can serve as important role models for high school athletes in showing them that their growing minds are allowed to come first in sports.
Mental health is often not talked about enough regarding sports. However, several athletes, such as Olympic track and field athlete Raven Saunders, tennis player Naomi Osaka, basketball player Kevin Love, and Olympic gymnast Simone Biles realized they had to put it before competing and have begun speaking out about mental health within the last several years.
Saunders began speaking out about mental health at the 2016 Rio Olympics. According to Time magazine, Saunders had trouble balancing college classes and competing at several competitions. She would have no breaks in between and became troubled on how to handle it all. Physically and mentally drained, Saunders began battling depression and struggling with suicidal thoughts, ultimately realizing that she needed to take a step back for herself. Her story, among others, spotlighted the truth that not all athletes live perfect lives, and that they must focus on both physical and mental health to succeed competitively.
Biles, another star athlete, has spoken out about needing to place her mental health before her sport. This past summer at the 2020 Tokyo Olympics, Biles withdrew from the team final competition. According to NBC News, Biles felt that she was carrying the weight of the world when competing for herself, team, and fans. All of the pressure caught up with her when it became too much, as she began experiencing a mental phenomenon known as "the twisties". After withdrawing from the event, Biles wanted to show her fans and the world that athletes are humans as well. She wanted to convey that there is nothing wrong with putting mental health first, a similar message to what other athletes have said in the past.
Professional athletes can serve as important role models for high school athletes in showing them that their growing minds are allowed to come first in sports — even under constant pressure from parents, coaches, teammates, and thoughts about the future. Creating a healthy schedule and developing good time management can be key to handling all of this. Keeping an agenda to stay organized and on top of work can be beneficial. Also, always trying to get a good night of sleep can help student-athletes have enough energy to conquer the next day.
"The biggest thing if you are in a mental health situation is please seek help from our counselors. I think that will be the number one thing to do from a health standpoint," said former Athletic Director Ira Childress. "As far as balancing your schedule, try to be as organized as you can and try to give yourself some time. If you are really having trouble from a mental health standpoint, alert your family, coaches, and counselor."
Sports can also create many positive experiences for student-athletes and can benefit mental health. Playing a sport often means you are part of a team. You can create bonds and relationship withs teammates that would not happen without spending time together during practices, games, and team events.
"[Playing a sport] has very much helped me in a positive manner, because when I'm playing golf, it relieves stress. It has also helped me make friendships and build bonds with several of my teammates," said sophomore Eli Paresky. "Golf has become an outlet for me to be myself and have fun after a long school day."
Even though sports can sometimes cause a busy and sometimes stressful schedule for student athletes, a healthy balance of athletics with other priorities can actually reduce stress and create a healthy lifestyle.
"When you get enough exercise, you have a release of endorphins, and that release is a chemical that helps to relieve pain and stress. So, that's an advantage of being an athlete, as it helps to reduce the levels of stress hormones," said mental health counselor Marlyne DeLima. "Outside of the physical benefits, there's a lesson to balance your time properly and use it wisely. The key is not to do anything in excess, in order to remain as healthy as possible."
View this article here in our Fall 2020 magazine, "New Beginnings".
Leave a Comment
About the Contributor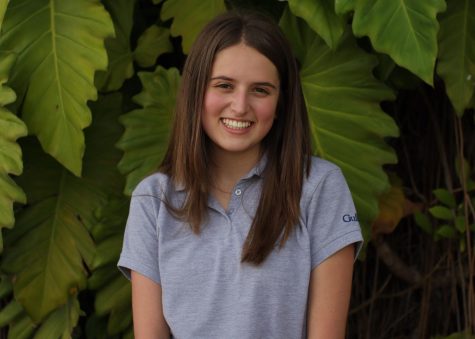 Samantha Gitlin, Editor-in-Chief
Sami Gitlin is a senior and Editor-in-Chief for "The Raider Voice". This is her third year as a full staff member, and she is looking forward to growing...