Spreading the Holiday Spirit at the Upper School
On Nov. 9, the Upper School students and faculty had their Thursday lit up by a Parents Association surprise and an "ugly sweater day" in which students could wear their favorite holiday sweaters to school.
As is tradition during the holiday season, the Parents Association surprised the Upper School with special treats throughout the day. Parents set up two long tables outside the cafeteria during students' breaks between classes and handed out food and snacks, including varieties of baked goods and a special hot chocolate and eggnog station.
"As a PA member, we meet monthly to set up different events, so for the treat days we typically two weeks out send out a sign up sheet for families to donate items," said event organizer Christy Veloso. "This happens five times a year. It gets the community together to give you guys something special since you guys work so hard throughout the year."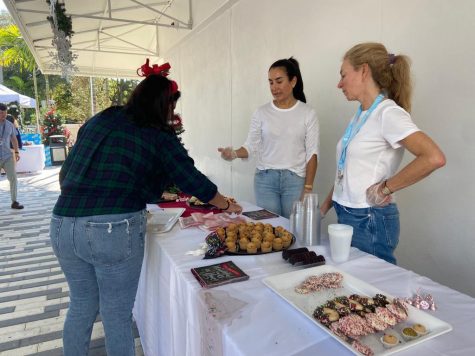 The students enjoyed the treats and appreciated the Parents Association efforts to organize this day.
"I really enjoyed the food they gave out to us. It was a very generous act of kindness from our PA and it definitely lightened the school's mood," said sophomore Carlos Gracia. "I hope that the PA continues to give us these special days because it definitely makes us feel more awake and prepared for our next classes of the day."
The administration and student government also decided that Nov. 9 was going to be an "ugly sweater day," in which students could choose to wear any of their favorite holiday sweaters. This way, students were able to show their holiday spirit while enjoying the holiday treats.
"It was a really nice idea for the school to give us a day where we could wear any of our holiday sweaters. It brings the community together and it's very cool to see all the different designs and colors from all of the different sweaters," said sophomore Diego Collazo.
The treats and dress up day gave the students more variety to a normal weekday in December.