Review | Benson Boone's DIY Drive for Authenticity
In an age of accidental, undeserving, and at times even confusing Internet sensations, Benson Boone's breakthrough into stardom is one worthy of the praise the singer has received for his recent album Ghost Town, released on Oct 15.
Boone initially surprised all the judges with his vocal talent in the limelight of the TV show American Idol. Surely, he wouldn't have had a problem making a name for himself on the show. For that reason, it was all the more shocking to fans when he left American Idol. According to Boone, it was all about being sure that he "didn't want to show the world someone [he's] not."
Thankfully, Boone had something going for him when he refused to sacrifice authenticity in exchange for a minute of fame. Since then, Benson Boone's artistically uncompromising Ghost Town has been a well-received hit. Topping over 51.6 million global streams over the course of the last month, the album's statistics prove that an artist can stay genuine to themselves and still put out chart-challenging hits.
As for the song itself, it's that remarkable drive for being honest to himself and his fans that reflects itself in the title track "Ghost Town" through the vocals, lyrics, instrumentals, and even the music video. 
The video had been filmed with Boone's friends back in his hometown. With shots of cliff diving and hiking, it truly feels like a journey that Boone is letting us eye in on. This trip only feels even more genuine through the shaky, amateur-like (and I mean for that to be a compliment) cinematography at work. Whenever he goes to grab the camera, or lets us in on an intimate moment, it's almost as if to tell the fans that what they're seeing is completely Benson. Yet at the same time, the fact that the entire video is done in black and white is to remind us that this is his own, personal, journey. We are simply spectators to his story.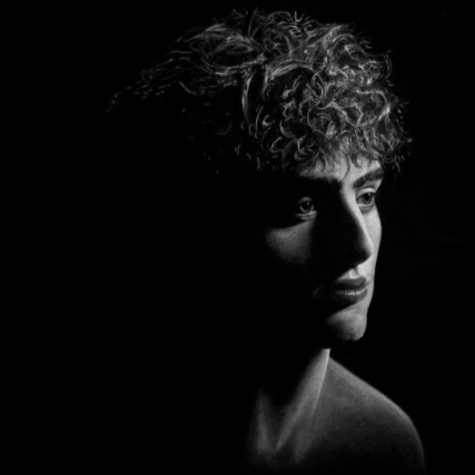 The vocals are warm, yet heavy. They carry the weight of his romantically hopeless and sober lyrics. Accompanied by a fitting base, it allows for the seamless conveyance of all his emotions. What Boone is trying to say is clear on a first listen. He's trying to tell his own take out of many about the mellow highs and toxic lows of a harmful relationship and its inevitably ending journey.
This song isn't by any means something that hasn't been heard before though. In fact, it has all the checkmarks for being a radio hit right out of the oven. The beautifully done, industry grade instrumentals are nothing particularly astounding if not for one fact.
Previously involved in a band back in high school, Boone's prior experience leads to his responsibility for playing the drums, guitar, and piano featured on the track. Even the single's cover was entirely hand-drawn by him over the span of five hours.
It's with this new knowledge kept in mind that Boone's talent is undeniably heard and witnessed. Thanks to his unshaken drive for authenticity and terrifically engaging DIY approach, Boone may very well be, rather unsurprisingly, on track to become one of the next biggest pop sensations. With only one track having been released, it is astounding to think of what Boone may put out into the world next.