Sophomores Build 54 Bikes for Toys for Tots
On Monday, the sophomore class participated in a field trip where they built bikes for Toys for Tots.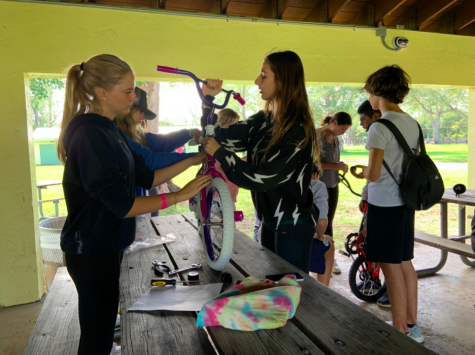 To promote team bonding and community service the sophomore class went to Tropical Park the whole day and participated in several activities. Each activity would allow the groups to earn coins to buy bike parts. The bikes were then built and donated to an organization called Toys for Tots. This organization was started by the Marines and donates toys to less fortunate kids. In particular, the bikes were being donated to kids for the holidays.
The sophomores started off the day by splitting up into their teams and participating in three athletic events. This included competitions in cornhole, ladder golf, and passing a ball to an end goal using tarps. The teams had the opportunity to practice before the real rounds started. This gave the teams a chance to bond and connect in order to reach the common goal of winning. After each activity the teams would be given gold coins based on how many points they received.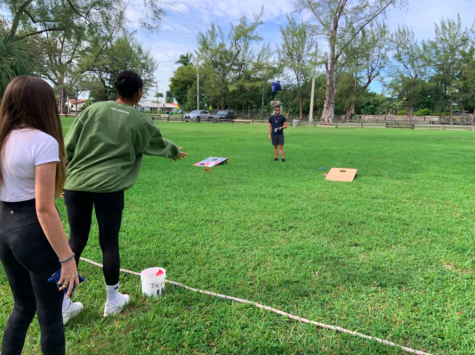 "My favorite activity from the bike building was the cornhole because it was very entertaining and simple. I was able to work with my team to create strategies to get the most points," said sophomore Nicolas Perez.
After the athletic competitions, the students then used their coins to buy bike parts. Each group built a total of two bikes. They had to assemble the handle bars, wheels, and frame all together. After they attached accessories to the bike including tassels, training wheels, and a helmet to use while riding the bike. The students added their own touch to the bikes they made by attaching holiday cards that they made to the bikes. 
"I thought the bike building was enjoyable and I was able to build a bike for an underprivileged kid to enjoy, while I had a good time playing games and building the bikes," said sophomore Shayna Karmin. 
The day concluded with a total of around 54 bikes made and new and lasting memories for the sophomore class.