Santa's Enchanted Forest Moves to Hialeah Park
With the holidays approaching, many look forward to the opening of Santa's Enchanted Forest, known as "the world's largest holiday theme park."  This year, the park has moved to Hialeah Park in Hialeah, Fla. — a different spot, but according to visitors, equally as fun.
"It's a great hangout spot with friends and family. I had an amazing time," sophomore Daniella Calero said, who visited the park recently. 
The park was not open last year due to COVID-19 restrictions, and its previous venue, Tropical Park, chose not to renew the contract due to the pandemic. Its new home at Hialeah Park, still offers the park's typical holiday feel with trees covered in holiday lights, and features rides, shows, games, food stands, and attractions for all ages. Single day admission is $29.91 for a child (3-8) and $39.25 for an adult (9-64).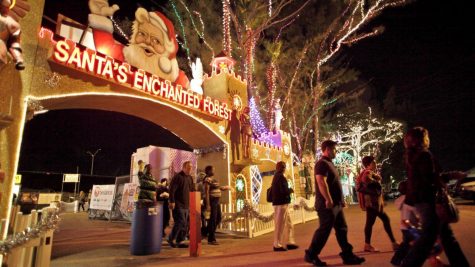 "[Santa's Enchanted Forest] gives me that 'tis the season' vibe, and it has beautiful scenery," senior Krysten Sanders said.
Santa's Enchanted Forest is way ahead of the Instagram trends, as the park features many photo spots, including a large flashing Christmas tree. All of the favorite dioramas are also back, including Santa surfing, Santa and the Grinch on jet skis, the elf gym, Santa in outer space, and Santa on the beach. 
"Santa's gives you that start of the Christmas vibe, and there's nowhere else I would rather spend time with friends and family for the holidays," sophomore Allison Podvin said.
The spirit of the holiday is finally back, as conditions start to slowly return back to normal. According to the Santa's Enchanted Forest official website, masks are not required, but are recommended for those not vaccinated. The park will remain open until Jan. 2.