Review | "Eternals" Introduces the Next Era of Marvel Heroes
Warning: spoilers ahead
Over the years, the Marvel Cinematic Universe (MCU) has expanded tremendously. From the franchise's debut film Iron Man in 2008, to becoming the highest-grossing film franchise in 2021, MCU movies have had a profound grip on fans for over a decade and rarely disappoint.
Growing up with these movies and seeing more both films and TV series to come brings any Marvel fan joy. After waiting over a year since its announcement in July 2019, Eternals is finally here. The real question is: is it worth the watch? 
If you are a Marvel fan and have seen the rest of the movies, then yes, you should absolutely watch it. But if you haven't really seen any Marvel movies, the answer is still yes, and here's why.
The movie opens with a written introduction explaining who the Eternals are and how they were sent to Earth to protect mankind from the Deviants. The movie shows both the past and present of what the Eternals do to help humans during that time.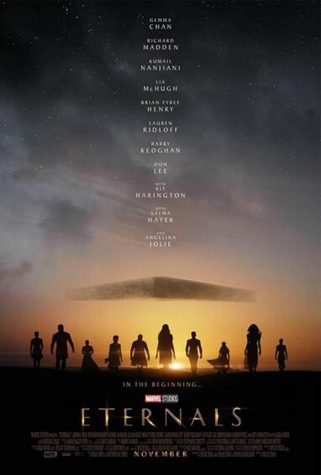 This movie contains a major plot twist that had the whole theater gasping in shock. We were told that the Eternals were put on Earth to protect humans, but it turns out that they were there to protect humans for just a period of time, before all humans were set to die to allow more planets like Earth to be formed. This movie was full of serious moments that kept me on my toes the whole time, waiting for the next part to come.
When watching a Marvel movie, you need to be prepared to experience every emotion you possibly can, and this movie definitely made me do so. For those who aren't really the type who enjoy watching serious movies, this movie is also for you. Although certain situations in the movie were tense, characters like Kingo (Kumail Nanjiani), Gilgamesh (Don Lee), Phastos (Brian Tyree Henry) and other comic relief characters had the audience in my theater laughing out loud. With topics as serious as the ones the Eternals confronted, comedic scenes were a must and the producers did an amazing job using humor to lighten the tension. From the ambiguity, to crying, to laughter, to anger and joy, there was never a dull moment during The Eternals. 
The inclusivity of this film is always something that really caught my attention, and another factor that makes this movie so special. I saw so many different communities brought into one film and portrayed by main characters. There was representation of the Asian community, Black community, LGBTQ+ community, Deaf community, Latino and Hispanic community, and even portrayals of mental illness. As someone who is Hispanic, seeing this representation in a huge movie franchise is something I appreciate so much and I'm sure that others may feel the same way. 
With a good movie comes good cinematography, and Academy Award Winning Director Chloé Zhao did a spectacular job. The emotions of the very characters can be seen through the environment around them, with changes of scenery and more. 
Finally, it's important to know that Marvel never fails with post credit scenes. I won't say too much: just know that it's big and we are for sure getting a sequel to Eternals.