Atlanta Braves Overcome Season Misfortunes to Win World Series
The Atlanta Braves won the MLB World Series on Nov. 2, a chilly Tuesday night, against the Houston Astros in a series of six games.
The Braves overcame a lot of challenges this season, including the loss of their young star, Ronald Acuna Jr., and a 0.3% chance of winning the World Series, predicted in July. Though it was saddening to see the team's young superstar injure his knee, the injury led them to signing some of their playoff heroes at the trade deadline.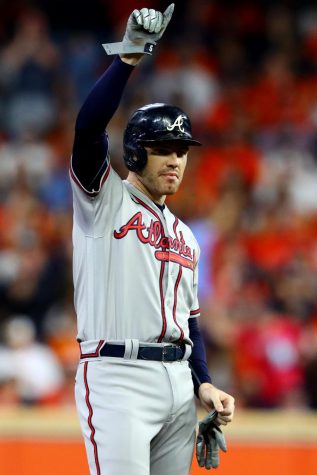 Some of these players in the dogpile in Minute Maid Park included Jorge Soler, the World Series MVP; Eddie Rosario, the NLCS MVP; Joc Pederson; and Adam Duvall. Soler hit three home runs in the series for the Braves, including a home run in the first at-bat in the World Series, setting the tone for the rest of the games. Rosario helped push the Braves into the World Series by hitting a .500 batting average and tying the MLB record, with 14 hits in the National League Championship series against the Los Angeles Dodgers.
The Braves entered the postseason as underdogs, having to face juggernauts like the Brewers' three-headed pitching monster. This win surprised all of America, as most fans believed the Dodgers would surely take them down. With the help of "Super Rosario" and their supporting cast, the Braves took down the Dodgers in game six to head onto the World Series to face the Houston Astros.
After celebrating their win against the Dodgers, the Braves headed to Minute Maid Park for game one, where Soler made his mark by hitting a laser over the left field wall. The Braves then went on to dominate, heading into a comfortable lead, where they Won the Series on a final ground ball to Dansby Swanson, where he made the final toss to the Braves' captain, Freddie Freeman. Freeman has been with the Braves since 2010, and finally got to enjoy the ring he has worked so hard for.