Cross Country Team Reaches Halfway Point
Last Saturday marked the midpoint of the cross country season.
The cross country season started off in an unexpected way due to weather conditions, as lightning cancelled the team's first race of their eleven scheduled races, additionally delaying some other local meets like the Spanish River Invite meet. Despite the unpredictable start, the team has participated in six competitions so far. Both the boys and girls teams are demonstrating strong performances.
One of these successful races was the FL Runners Invitational in Lakeland, Fla. on Oct. 16, where the girls varsity team was invited to run in the Race of Champions division against the top 25 teams throughout Florida. The varsity girls placed within the top ten teams, and the boys varsity team made it into the top 20 teams. At the meet, many of the athletes achieved a personal record and season best times.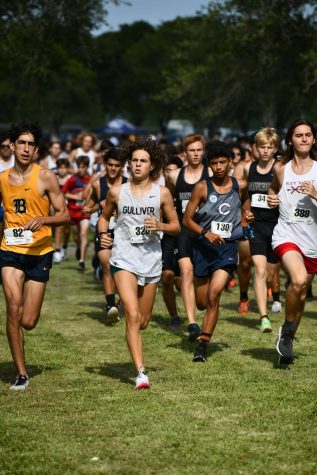 The team holds daily practices Monday through Saturday to prepare for the second half of the season, which includes important competitions like the 2A District 8 Championship, 2A Region 4 Championship, and the FHSAA 2A State Championship.
Head Coach David Suarez has high expectations for the team and believes that the team will achieve them.
"Now that we've reached the midway point, I think everyone is pretty much on the right track," Suarez said. 
The girls varsity team has high chances of placing on the top three teams on Nov. 12 at the FHSAA 2A State Championship. Local teams, like St. Brendan High School, have been a great rival to the girls varsity team at each race.
Senior Nina Starvaggi, a top runner on the girls varsity team, hopes for a remarkable end to the season. "I think the team is going to do great, and if we all play our part, we have a good chance of coming in 2nd at the States Championships," Starvaggi said. 
On the boys side, although the team missed some of their key runners, the runners stepped it up. Senior Alex Neikirk believes in each member of the team's capacity. "We are very hopeful to make it past regionals this year," Neikirk said.