Commentary | Dolphins vs. Colts Game Recap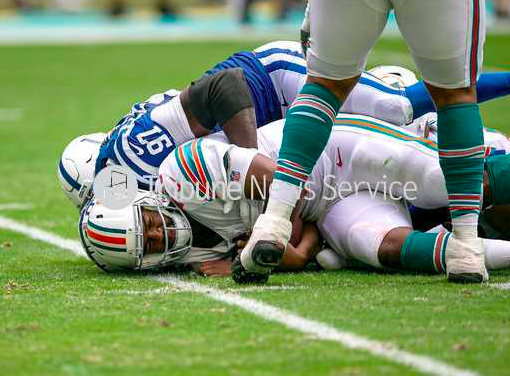 On Sunday, the Miami Dolphins suffered a heartbreaking loss to the Indianapolis Colts, with a final score of 27–17. Like the past three previous games, the Dolphins gave up major plays on the defensive side, and couldn't get the ball moving till the fourth quarter. This caused the Colts to develop a lead after the fourth quarter.
With quarterback Jacoby Brissett leading the way for the Dolphins, the team scored a field goal during the first quarter and were clearly dominating the game. The Colts could barely move the chains, while the Dolphins were getting good drives into Colts territory. However, during the second and third quarter of the game, the Fins couldn't continue their good work on offense scoring zero points in both quarters. The Dolphins defense couldn't do much as well, allowing big yardage plays on the ground and through the air. Colts quarterback Carson Wentz threw over 200 yards, and Colts running back Jonathan Taylor had over 100 rushing yards on the ground. 
This Dolphins defense isn't looking like how they did last year. Also, with quarterback Tua Tagovailoa out, Brissett is responsible for leading this team to a win. It's a hard thing to ask for, but needs to happen, especially since the Dolphins are due to compete against the reigning Super Bowl champions next week, with the Buccaneers and quarterback Tom Brady.
The Fins will have their hands full next week, and the Buccaneers game is expected to be a hard match for them. Based on Miami's performance this season, few fans are expecting a win for this team. Things they need to work on better are to stop allowing big yard plays on defense, and to move the ball on offense. The coaches need to draw up new plays to try to push the ball downfield, because right now their strategies are not working.