Football Team Benefits From Yoga Practice
Football is not all about hitting hard and running. Players train in a variety of other ways behind the scenes to prepare for games off the field. Yoga is one activity that helps athletes recover after the games. Most Saturday mornings after the Friday night game, the football team practices yoga with Casa Vinyasa Yoga Studio.
"[Yoga] helps with athlete recovery for different reasons so number one, one of the biggest parts of yoga is that it gets you out of your body and into your mind. On the field it is important because it will get you to react quicker," said yoga trainer Claudia Gonzalez. "Number two, you're stretching, you do a lot of strength training and a lot of training on the field which tightens up your body and this loosens your body which allows blood flow and that way you can build muscles even faster."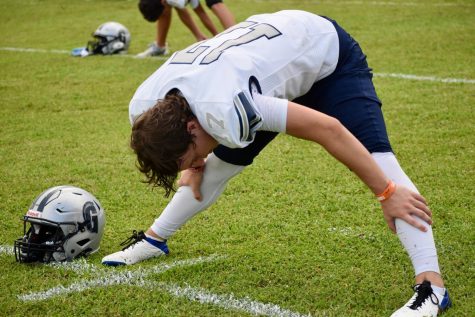 Yoga isn't just about stretching out the body, it is also about preparing the mind. When both are in touch with each other, performance on the field increases. The looser the muscles, the more efficiently players can run and move, giving them a critical advantage. Being able to move easier than the players on the other team can lead to a win.
"Yoga stretches out your muscles and gets the blood flowing," said junior defensive end Lamont Green. "It does the same thing as running for 12 minutes, [and] really get a deep stretch and get all the muscles loose."
The players enjoy doing yoga and always feel good afterwards. The feeling of the body fully stretched out is relieving for the players. Yoga also helps with injuries by increasing blood flow, which helps the body heal faster. Yoga is beneficial for injuries because it often helps to prevent future injuries. 
"I think it's a great opportunity to stretch out my muscles and be able to relax after a game," senior kicker Will Bettridge said.
Yoga has a triple effect for Gulliver football players: it helps prepare the mind and body, helps prevent injuries, and helps heal current injuries by reducing the amount of time needed to recover.