Feeling the Rush: Club Rush Returns to Campus
Students and faculty got together once more to explore and join the Prep's array of student clubs.
September marks an important milestone for the school community, as it marks the first whole month of fully in-person learning since March 2020. From football games to orientation, many previous out-of-the-question events return, and among the traditions was the all-too-missed Club Rush.
Students from all grade levels rushed the Blue Dungeon this Wednesday after enjoying a long weekend. Following what had been a year-long hiatus due to hybrid learning, students were ecstatic to see the rows of tables with informative trifolds, each containing information for a different student-run club. 
Popular new clubs include SaberCraft choreography, a literature and philosophy club, and even a surfing club. "We also have a student advocacy club, which I think is very overdue in a place [as big as ours]," commented Activities Director Danielle Bowen, who was primarily responsible for organizing the Club Rush event.
Students and club hosts enjoyed exploring the new additions to the school ecosystem of clubs in an interactive and hands-on way once again.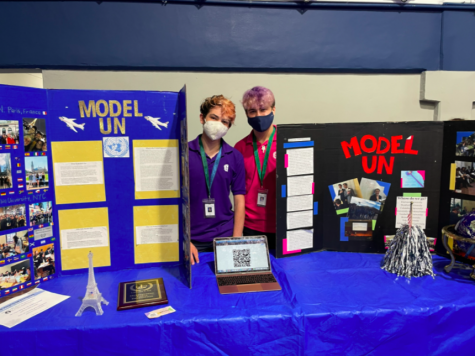 "Last year we didn't really have an event, it was generally just a signup sheet. This year we were at the table and actually able to speak to people. It was super fun," explained senior Lucie Duchene, president of the Charitable Arts club. "We got around eighty signups, and last year we had [only about] five."
Club Rush proved itself to be engaging for both the officers running it and the student body itself. 
"You can't really do [Club Rush] from a piece of paper. Officers or even current members are so excited about their club that they encourage their friends to come visit their table and you can't get virtually," said Bowen, agreeing on the success that Club Rush and in-person recruitment truly was. "Having all the clubs in one place and accessible to [all] students was wildly successful. We hadn't been able to do that. And so it was nice to see everybody in one spot."
Of course, with the crowded gym brought by Club Rush came the COVID concerns, at a time when the Delta variant continues to ravage the country along with our local communities.
"One of the first things we did [was] eliminate the giving of candy or any kind of food item. The minute you do that, kids' masks come off. And we didn't want that when we knew we were going to have a big crowd in one [place.]" Bowen elaborated. Generally speaking, officers at booths wore masks and stuck to COVID guidelines, but there was much more chaos among the crowds of students that entered the gym during lunchtime. 
Students that have signed up for clubs can expect a lot moving into the future, whether it be new opportunities for community service, the exploring of an interest, academic pursuits, or just finding their "in" with a crowd of like minded people. New club members should keep an eye on their phones for any announcements their clubs may make in the following days about upcoming meetings and events.