Take Your Marks… Go! Raiders Defeat Miami Country Day and Carrollton in Opening Swim Meet
The swim teams came home with an important win against Miami Country Day and Carrollton at their first meet of the season last Thursday, Sept. 2.
Despite having the meet cancelled before the last two events because of bad weather, the Raiders dominated in their respective categories. The girls beat Miami Country Day 169.00-89.00, and Carrollton 163.00-97.00. The boys also won by a score of 151.00-70.00 over Miami Country Day.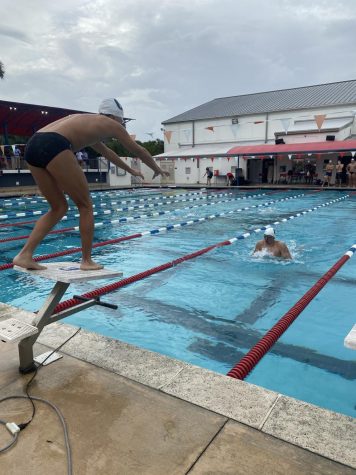 "Our overall team performance at the Miami Country Day meet was actually really good. It was way better than I thought it was going to be. We've been doing a lot of capacity training so the workload has been pretty immense," Coach Christopher George said.
George also believes that, moving forward, the teams will focus on continuing to train and staying on schedule with their goals. The dedication, hard work and intensity during practice is fundamental so that the team can perform well in the meets and drop their times. 
Senior Mateo Jaime, one of the team captains, said he is excited to take on the responsibility of leading the team in the right direction. Jaime swam the 200 and 500-freestyle and had an excellent meet by dropping all of his times and leading the boys team to a win. 
"I think my overall performance in last week's meet was pretty good for the start of the season," said Jaime. "We had some good times and also we did the best we could with the weather that we had."
Sophomore Alyssa Ruiz was another swimmer that dropped her times in the meet and contributed to the girls' win. She competed in the 50-freestyle, 100-freestyle, and the 200-freestyle events.
Unlike last season where the swimmers could only attend home meets, the team now has the ability to travel to different schools to compete. Fans are also allowed back at the stands to support the team. 
 "It was a great start to our 2021 swim season and I hope we can improve," Ruiz said.